New IBM Flex Systems squeeze a bigger cloud into a smaller data center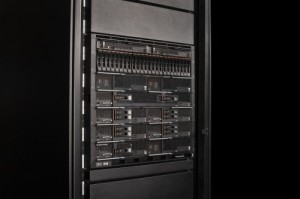 Announcing a raft of additions to its Flex System range, IBM aims to help companies consolidate their IT infrastructures and reduce operating costs. The new systems combine the latest server technology with updated virtualization, network and management tools. They will allow the fast deployment of increasingly large clouds without needing to boost the size of the data center.
IBM quotes Morgan Stanley's Cloud Perspective survey which has found that by 2014 businesses will have migrated at least 62 percent of their database workloads to the cloud.
The new Flex Systems are available with a choice of x86 and Big Blue's own POWER7 architecture. The Flex System x222 uses a dual-density x86 architecture that allows it to support up to 2,800 Windows 7 user images on a single chassis. There's also an upgrade to the Flex System Manager so that systems can be monitored remotely using Android, Blackberry and iOS devices. A new utilization fuel gauge feature allows system managers to see at a glance the status and availability of their servers.
Flex servers can be built to order for clients who have specific processing, storage and networking configurations. You can find more information and access a configuration tool at the www.ibm.com/flex site.