The good ship PC continues to sink -- all aboard the tablet lifeboats!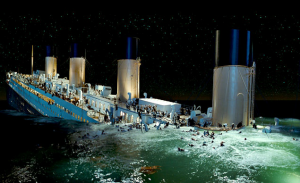 The worldwide PC market continues to experience few signs of growth, with a healthy increase in global tablet shipments merely helping to offset the continuing descent of traditional desktop and notebook systems, according to independent analyst firm Canalys.
While tablet shipments saw a 42.9 percent increase compared with this time last year, desktop and notebook shipments fell 7.4 percent and 13.9 percent respectively. Total shipments for PCs (Canalys lumps desktops, notebooks and tablets together) delivered a 0.3 percent growth for the year.
Canalys says that although tablet shipments slowed in Q2, agreeing with IDC, it still believes that they will go on to outsell notebooks by the end of the year. Apple is expected to introduce an updated iPad in the winter, which could well provide the necessary impetus.
Talking of Apple, the company remained the top computer vendor in Q2, with shipments of 18.6 million, but its market share dropped from 19.4 percent in Q2 last year to 17.1 percent this year. With just 20 percent of its shipments coming in the form of desktop and notebook computers, it's clear how important the iPad is to Apple.
Lenovo continued to buck the trend and gained share in the notebook, desktop and tablet categories, with a 7.3 percent year on year increase. Lenovo shipped around 1.5 million tablets in the quarter, helped by expansion in mainland China and Latin America. The company now has 12.9 percent market share.
HP is in third place, with 11.6 percent, followed by Samsung with 9.9 Percent. The South Korean firm's shipments more than doubled from 5.2 million Q2 last year to 10.8 this year.
There is little good news for Microsoft. Following on from disastrous Surface sales and despite what Canalys calls "rapid innovation" from vendors such as HP, Lenovo, Toshiba and Acer, new PCs in a variety of form factors still aren't proving popular with consumers.
"Component pricing has been an issue, particularly with multi-touch screens, though scale economies make this less of an issue as demand increases," Tim Coulling, Canalys Senior Analyst, says. "The price of Windows itself is a contributing factor and one that Microsoft must address as a matter of urgency. Its PC OEM partners are in an increasingly difficult position and consolidation in the PC market is inevitable within the next 12 months".
Unsurprisingly, in the wake of continuing tablet adoption by consumers, Android's market share rose from 6 percent a year ago to 17 percent this year.