Outlook.com is down -- Microsoft working on it [update]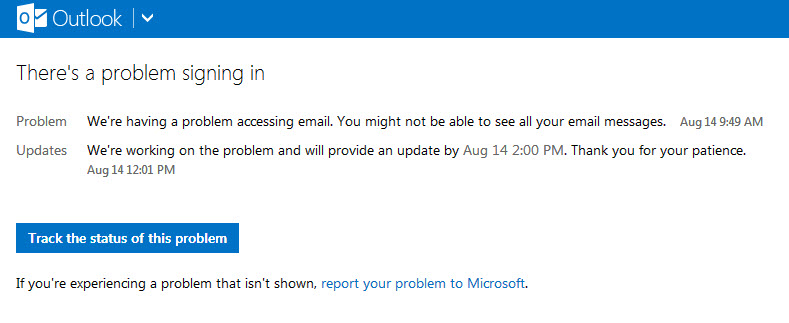 There are many things that make an email provider good -- features, spam blocking and of course, reliability. The latter is currently an issue, as the Outlook.com service is down.
As of 12:50pm EST, the web-based email service displays the following message: "We're having a problem accessing email. You might not be able to see all your email messages". It further states that, "We're working on the problem and will provide an update by August 14 2:00 PM. Thank you for your patience". This seems to be very widespread based on chatter around the Internet.
Microsoft is promising an update by 2pm (however, it does not specify a time zone) -- this implies that the service could be down longer than that. It may be extremely troubling for businesses that take advantage of Microsoft's services. Only yesterday, New York State announced it was moving to Office 365. Confidence in Microsoft could be impacted by this unfortunate event the longer it goes on.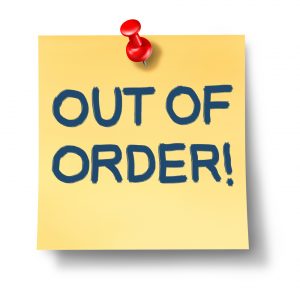 Strangely, when attempting to log in, I was prompted to enter a security code that would be sent to me via text message. This was alarming to me and made me worry that my account may have been compromised. Unfortunately, that security code has not yet arrived...I am waiting Microsoft. When coupled with the down-time, my anxiety over my account safety is very high.
Are you experiencing this issue? Tell us in the comments.
Update: It seems to be working again for the moment, but the status page still says there are problems.
Update 2: Back down for writers here at BetaNews, including those in the US and Romania.
Update 3: Microsoft says the outage might be affecting mobile devices. Windows Phone is unable to sync with the attached Microsoft account, an issue which extends to the company's YouTube Windows Phone app as well.
Update 4: Outlook.com is back online for writers here at BetaNews (Brian Fagioli and Mihaita Bamburic).
Photo Credit: Lightspring/Shutterstock