Easily take and share screengrabs with the Dropbox-enabled CloudShot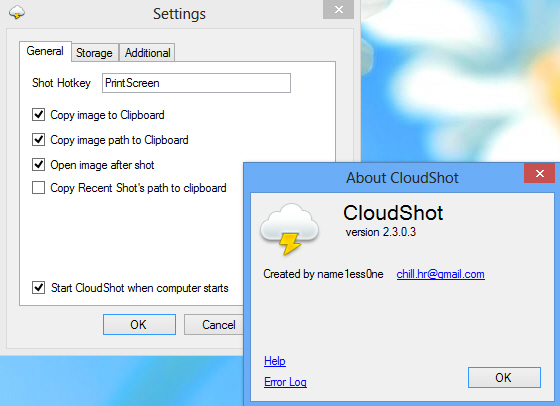 Capturing the screen on a PC is easy enough, particularly with Windows 8, where pressing Win+PrtSc can finally save your grab as a file.
Actually doing something with that grab, like sharing it with someone else, normally takes rather more work, of course. But it doesn't have to be that way. Especially if you install a copy of the open source CloudShot.
The program installs easily enough, and by default takes over the standard Print Screen key. Just press PrtSc when you need to capture something, click in the window you'd like to grab (or click and drag to capture a rectangular region), and the image will be saved as a PNG file and immediately opened in your default editor.
CloudShot can easily be reconfigured to suit your needs, though. Open the Settings dialog and you can change the program's hotkey; prevent it opening each grab; have it start with Windows (or not), or set its default save format to JPG.
The really interesting option here is the ability to save images to your Dropbox account. Right-click the program's system tray icon, select Settings > Storage, and change the "Storage" option to Dropbox. Click "Sign In" and enter your Dropbox login details to complete the setup process.
Now, pressing PrtSc and clicking in a window is enough to save the image as a file, upload it to your account, and copy the Dropbox URL to your clipboard. If you need to share this with someone else, just paste it into an email, forum post, instant message or anything similar, and they'll be able to view the image right away.
And in a welcome bonus feature, the program even maintains a history of your last 4 grabs. Right-click its system tray icon, select Recent Shots, and you'll see thumbnail previews of each grab: just click one to open it in your image editor.
CloudShot's screen capture features are relatively basic, then. If you're looking for fancy freehand capture types, or built-in editing and annotation tools then you won't find them here.
The Dropbox support is worth having, though; the capture history is also useful, and the program overall is small, simple and easy-to-use. If you need an easier way to share screen captures online then we'd give it a try.