Latest Microsoft ad targets students while dissing iPads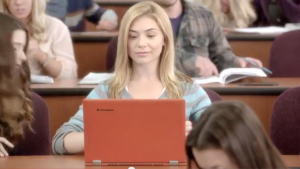 In a recent ad Microsoft levelled its guns at Google, but this time around it is Apple who finds itself in the crosshairs. The thinly veiled attack pits the Lenovo Yoga against Apple's iPad in a bid to win favour in time for the 'back to school season'.
The advertisement is set in a lecture hall and finds the lecturer's audience divided into three distinct camps -- old-school pen and paper fans, iPad users, and a solitary student with a convertible Windows device. As the cue comes to start taking notes, the Windows user casually stops playing the word game she was engrossed in, flips the Yoga into 'notebook' mode and starts typing.
Meanwhile, the other students scrabble to attach keyboards, stands and other peripherals to their iPads, panic as pens fail to work, and even email Microsoft-girl to ask for a copy of her notes.
As well as highlighting the flexibility of convertible, hybrid devices such as the Yoga, the ad also manages to focus on the multitasking capabilities of Windows 8. Not bad going for a 30-second commercial.
YouTube commenters have been quick to point out that the advertisement compares products that are in completely different price brackets.