Microsoft is at it again -- launches new Scroogled video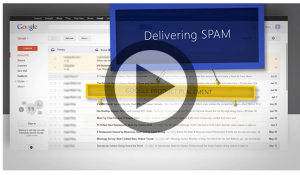 Microsoft's Scroogled campaign, an attack on rival Google, is still in full-swing, despite taking turns between entertaining and ridiculous. My colleague Wayne Williams described it as "sad and embarrassing", but I am not so sure I would go quite that far, though neither will I defend the software maker in this battle.
Now Microsoft launches its latest attack -- again going after Gmail. This time around, the company goes after the new tabbed design in Gmail, though it focuses on treating the email service on the whole as a trojan horse for advertising -- not a new claim, only a new video for an old accusation. The video, of course, ends with the plea to use Outlook.com.
There is not a lot to this latest barb in the ongoing war -- more a bow-and-arrow than a missile strike, and to Microsft's credit, it did not use its YouTube channel for this skirmish, but instead released it only on the Scroogled site, and used Adobe Flash encoding for the 44-second attack.
It is not one of the more entertaining videos the company has launched -- there is no "Gmail Man" in this one. It also continues to answer the question of why there is a distinct lack of Google apps available on the Windows Phone 8 platform (I am still waiting for my Google Music guys -- perhaps lightening your assault would help my cause), including the order to cripple a Microsoft-designed YouTube app. The battle goes on, and is shaping up to be a long one.