Skype for Outlook.com now available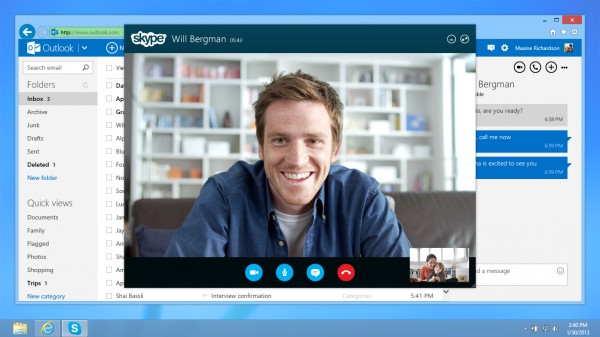 Microsoft continues to integrate Skype into more of its products, a process that seems slower than it should be. The messaging and calling service is now finding its way into one more property, in this case the web-based email service, Outlook.com.
The new integration is considered a beta release, but is available in multiple international markets -- the United States, United Kingdom, Germany, France, Canada and Brazil. "The Skype for Outlook.com preview makes it easy to connect with your Skype friends right from your Outlook.com inbox", says Skype's Pierre-Eric Jacoupy.
The integration is kicking off with a contest, as well. Microsoft has partnered with food expert and author Gail Simmons. For each entry into this the company promises that "Outlook.com will donate $10 to Common Threads, a charity that promotes healthy eating with kids". Entry requires contestants to submit a valid and original kid-friendly recipe.
"In the coming weeks, we'll have even more to celebrate as we continue to roll out the preview version of Skype for Outlook.com around the world", the company promises. Now, if only Microsoft can keep Outlook.com up and running, a feat it failed to pull off last week.