Netflix solves another problem with 'My List' feature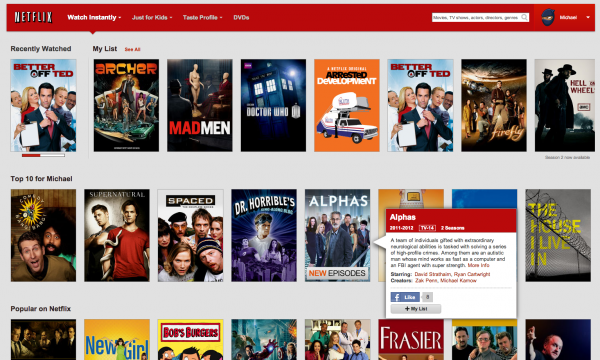 If you are a Netflix customer with a family, you will likely have encountered some flaws in the service's design. When you visit your queue in order to locate a movie you added you will firstly need to scroll through everything your spouse has added, and if you have kids then the task becomes even tougher. After solving this problem earlier in the month with individual profiles, the company is turning to another problem in need of solving.
Today Netflix announces what is essentially an improvement on the queue, calling it "My List". Michael Spiegelman, director of product innovation at Netflix explains: "We've designed a better way to help you easily find and watch those titles you picked to watch on Netflix and are happy to introduce My List to all our streaming members globally. With My List you can now quickly go to your own row or gallery on Netflix and instantly find those titles you already picked to watch".
A My List Management option will now appear within the My Account section, allowing for some customization, including the ability to order your list in whatever way you wish if you are not satisfied with the default choice provided by the DVD streaming company.
Netflix points out that it has "added further details to the titles in your List to make it more informative. For example we will display a special tag for those TV series that have new seasons. We will also show a special call out if a title on your List will soon no longer be available on Netflix because our rights to stream it are set to expire. This feature is currently only available on the website but will be rolled out to more devices in the coming months".
These two major updates are certainly something that competitors like Redbox Instant and Amazon Prime should take notice of, as the competition for your eyes and dollars becomes more heated.