Microsoft needs someone from the outside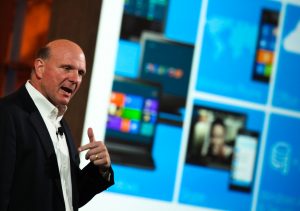 Like many, I was caught off guard by the news of Steve Ballmer's early retirement. Until the crash of Surface and Windows 8, I had assumed he would be there until at least 2017/18. But with Microsoft's recent stumbles in its transition to mobile devices I had a sneaky suspicion he might not make it to 2017.
Before Microsoft's unveiling of Windows 8 and the company's new consumer strategy I was not a big fan of Ballmer as CEO. I was among the many who felt Microsoft needed to make a change at the top. However, once I began to see the consumer strategy come together I started to have a change of heart about him, although I was never quite 100 percent in his camp because of the obvious missteps in recent months.
So what does the search committee have to do to find a replacement? As I look at the current leadership of the company, no immediate successor comes to mind. Personally, I believe that's a good thing. I typically prefer corporations to hire from within because there's so much value in the knowledge of a company gained by someone who has been there. This person understands the culture and the way the firm works. It is for this very reason, however, I believe Microsoft needs to hire someone from the outside; someone who is not a former Microsoftie.
The tech giant needs fresh eyes. It needs someone who can bring fresh thinking to the company, someone with a solid understanding of consumer culture in today's mobile computing milieu. Ballmer has made huge mistakes and has recovered from some of those mistakes quite well. His replacement should have a track record of the same. Microsoft needs someone with the guts to make bold decisions that will get the company on a faster track to revolutionizing the way consumers use computing devices.
My pick for Ballmer's replacement is probably not on anyone's short list (or long one) but something tells me this person would be a great fit to breathe fresh air into the company. While he doesn't appear to have much experience in the hardware arena, he does come with a solid track record in building a consumer company (failures and successes). He has an understanding of how Microsoft runs its business so he's somewhat of a safe bet. My pick is Reed Hastings of Netflix.
Am I crazy? Yes. And I'm perfectly okay with that. I also think Reed is crazy too but in a good way. Microsoft needs a certain kind of crazy to push the company into the future. Ballmer's version of crazy is what took it from a $22 billion dollar per year company to a $77 billion dollar per year company. And now a new kind of crazy is needed to push Microsoft even higher.
So what do you think about my pick? Who do you think is a possible successor?