Chromecast app comes to iOS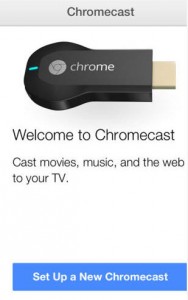 Apple users tend to like Apple things. Typically, the user's experience will be the best when all of their hardware is Apple. However, Google is hoping that iOS users will change course and shun the Apple TV in favor of its inexpensive Chromecast device.
Today, Google took a big step towards its goal by releasing a Chromecast app for iOS. Will it be enough to lure Apple users from the Apple TV?
Google explains that the app can be used to "set up your Chromecast to work with your Wi-Fi network" and "manage your Chromecast settings (such as changing your device name, Wi-Fi password, etc.)". In other words, this app is simply used to setup and manage your Chromecast. The actual streaming or "casting" happens from within the compatible YouTube or Netflix apps.
Compatibility includes the following devices on iOS 5.1 or later:
iPhone 3GS, 4, 4S, 5
iPod touch (3rd, 4th, 5th generations)
iPad (all models)
While the Chromecast is very attractive at $35, Apple users should still opt for the AppleTV at this time. The $99 price tag is higher, but so is the value. The Apple TV will allow you to access a much broader range of services compared to the Chromecast's paltry Netflix and Youtube. Not to mention, mirroring from iOS to a TV is still a killer feature that the Chromecast cannot deliver -- yet.