Hoop Tracker -- A watch that helps you score (a basket)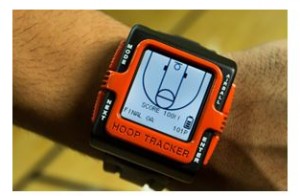 I am a huge NBA fan (Go Knicks!). Unfortunately, I cannot play worth a lick. However, that may soon change. Today, a company called Wireless Sports announces a product called Hoop Tracker -- a watch that tracks and improves your basketball skills.
According to Wireless Sports CEO Jason Duke, "practice is the key to success in a sport like basketball, and since it's impossible to have a coach on standby twenty-four-seven, having a tool like Hoop Tracker can be invaluable for tracking progress and improving overall technique".
"The Hoop Tracker has two components that work to develop in-depth analysis of each shot: the lightweight watch is worn on your non-shooting wrist, while the shot detector is attached to the rim using the mounting pole. The watch and rim detector work simultaneously to identify the make or miss of every shot taken. Data recorded includes where the shot was taken and if the basketball hit the backboard, rim, or activates the internal lever. The only shot not automatically detected is an air ball. In this case, the player pushes the air ball button located on the side of the watch, recording the attempt as a missed shot", says the company.
In other words, this is not just a watch. The watch works in conjunction with a "rim detector" that is installed on the basketball hoop -- very cool. The data collected by the device can then be uploaded to HoopTracker.com.
The company lists the following data as being tracked by the device:
Number of shots taken
Overall shooting, field goal, free throw and 3 point percentages
Short, medium and long range distance accuracy
Left, right and center courtside accuracy
Consecutive shots made and missed
Points scored
Duration of shooting session
Calories burned
This should be beneficial to not only amateur basketball payers but professionals as well. The only downside to the device is that the rim detector must be installed on the hoop. Unless you carry around the detector and installation kit, the watch will have no value when away from your normal court. You can never be sure when or where the opportunity to practice may arise.
Sadly, I may be too much of a lost cause to be helped by the product. I am built more like Michael Sweetney or Eddy Curry than Carmelo Anthony.
According to the manufacturer, Hoop Tracker will launch in the first quarter of 2014 for $199.99.