Microsoft upgrades SkyDrive Pro accounts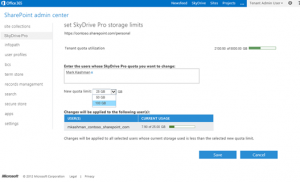 When Microsoft first launched SkyDrive, the company offered 25 GB of storage to everyone willing to sign up. As the service grew and was increasingly integrated into more places, like Windows 8 and Office 2013, that free ride came partially to an end. Free storage was downgraded to seven gigabytes, but those who met certain criteria were grandfathered in.
Now that 25 GB threshold breaths new life, though not quite for everyone. This time around the extra cloud space goes to Pro users -- business customers. "Today, we're pleased to announce three new significant improvements to SkyDrive Pro for Office 365 business subscribers - to help you be more productive", the Office 365 team announces.
The 25 GB will be available for each employee on the account -- a limit that was also once seven. In addition, companies can opt to increase this to 50, or even 100 GB, if it is needed and, finally, there is a new "shared with me" view to make finding those type of files just a tad less cumbersome. "The documents and folders you see in the Shared with Me view may live in someone else's SkyDrive Pro, or they may be shared from a standard team site document library", the company describes.
The cloud storage service also let it be known there are some other, less high profile changes -- "in the spirit of continually improving the SkyDrive Pro service, we're also increasing the overall file upload limit in SharePoint Online to 2 GB/file and the default recycle bin retention to 90 days (up from 30 days). And we're enabling versioning by default on newly provisioned SkyDrive Pro libraries, which saves the last ten versions, so you never lose an important document".
The upgrades should become available today. With the ever-increasing cloud storage in today's programs, the upgrades are very much welcome, and hopefully will trickle down to consumers soon.