Create stylish photo collages with Collagerator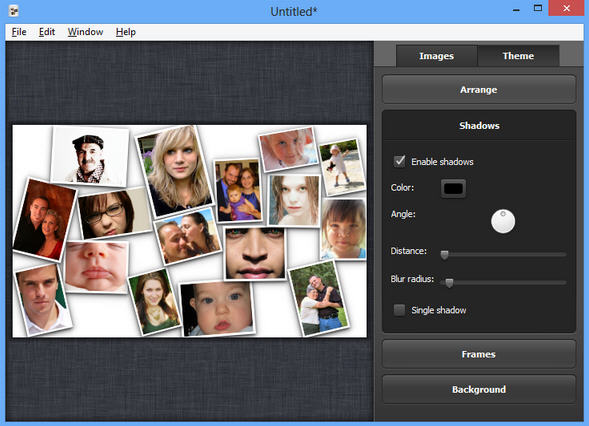 Photo collages can be a very effective way to present a group of your favorite digital images. They're also very time-consuming to produce manually, though, so if you're interested in collage creation then you might prefer the free Collagerator.
The program starts with some basic configuration options, like choosing your preferred collage design (background color, how the images will be arranged), its size and orientation (portrait or landscape). Add a few images and they'll immediately be organized according to your rules.
This first pass probably won't look great, but fortunately the design can be tweaked in various ways. At a minimum, you might drag and drop any particular image to relocate it, while right-clicking the picture displays options to move it above or below neighboring shots.
Clicking the Theme button provides several useful options for fine-tuning your work. So you can enable a frame around each photo, set its color and size. Your images can have shadows, with your choice of color, angle, size and blur radius. And you're able to set the collage background to solid colors, or a custom gradient.
But if all this still doesn't deliver the results you need, there's always the "Arrange" option. Clicking "Randomize" here reorganizes your photos into an entirely new pattern, and "Arrange" then optimizes that layout, resizing the images for the best-looking results.
If all this is taking a little longer than you expected, the current layout can be saved at any file. Reopen it later and you'll be able to carry on where you left off.
Once you're happy, though, the program can normally export your collage in various image formats (BMP, ICO, JPG, PNG, TIFF and more), with your choice of width, height and DPI settings.
"Normally"? The current Collagerator build is a beta, and while it mostly works just fine, we did come across a major problem: the program crashed whenever we tried saving a collage from one of our test systems, making it entirely useless.
The export option worked just fine on other PCs, though, and as we're unsure how widespread this problem might be, the program is still worth a try. Just make sure you try saving your collage immediately after adding some images, before you've spent any significant time on it. If it works, great, carry on exploring; if not, uninstall it and move on.