Nymi NFC bracelet brings 3-factor authentication to your devices -- for a price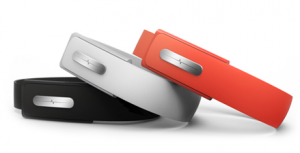 We've already seen an NFC (Near Field Communication) ring and it looks like a full complement of body adornments may soon be available. The latest addition to the jewelry box is an NFC bracelet from Nymi which will, when it sees the light of day, give owners the ability to unlock their smartphone with their heartbeat.
This might sound a little wacky but, just like your fingerprint, your heartbeat has a unique pattern to it meaning it can be used to uniquely identify you. Being a bracelet, the Nymi is worn around the wrist and when you need to authenticate to unlock your phone, a simple press of the sensor on top is all it takes. Of course, you need not limit yourself to unlocking your phone. The bracelet could also be used to replace car keys, make payments in stores and to open hotel doors.
It's simple, but also an incredibly powerful three-factor authentication system. Two-factor authentication has become incredibly common now, with Facebook and Twitter jumping on that particular bandwagon. But here things are taken up a notch. To unlock a device you not only need to have physical access to the Nymi bracelet, it needs to be able to detect your heartbeat -- specifically your heartbeat, not just a heartbeat -- and you need to have the device registered to the bracelet.
It seems like a nice idea -- particularly from a security point of view -- but there are issues. The first is price. The NFC ring Brian looked at cost just $20; this bracelet is four or five times that price depending on when you buy it. The Nymi worked with a proximity sensor so -- and, yes, I realize that this is kind of the point of NFC -- you have to be very close to whatever it is you're looking to unlock.
Fancy getting your hands on one? If you're quick, you can pre-order a bracelet for $79, but once the first 25,000 have been snapped up, the price jumps to $99. Quite how long it will take that number to sell isn't clear, but even if you pre-order right now, you won't get your hands on the goods until some time in early 2014.