Panasonic Toughpad 4K -- A tablet on steroids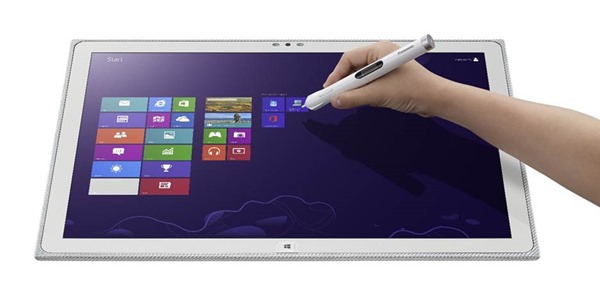 Apparently smartphones are not the only area of technology that is growing, rather than shrinking. Tablets, it appears, are moving in the same direction, at least if Panasonic has its way. Beginning on September 7 you can purchase a massive 20-inch Windows 8 tablet from the hardware maker.
"The Panasonic Toughpad 4K will enable photographers, architects, cinematographers and other creative professionals to experience the cutting edge of high resolution tablet technology", says Microsoft's Gavin Gear.
The "tablet" sports a 3,840 x 2,560 screen with a 15:10 aspect ratio, Intel i5 processor, NVIDIA GeForce GT 745M, 8 GB of RAM, 128GB or 256GB SSD and weighs in at a solid 5.07 pounds.
The Panasonic Electronic Touch Pen, included with the Toughpad 4K, claims 2,048 levels of pressure sensitivity designed to yield a high-fidelity pen input capability for writing, sketching, and UI input.
Panasonic describes the Toughpad 4K as "business rugged", which means it's capable of exceeding traditional consumer tablet durability expectations. In the first quarter of 2014 the hardware maker will be releasing a high-performance version of the UT-MB50 (which will be labeled the UT-MA6) that will offer greater performance for applications like 3D simulation and CAD design.
A 4K screen is certainly tempting on a tablet, however this is not a device you are likely to be watching a movie in bed on -- unless you want to use it to give your arms a workout. But in the proper environment, such as a design studio, it may find a home. The Toughpad 4K will be sold in Europe, Japan, USA, and Canada.