Yahoo! Announces! Horrid! Obvious! Ordinary! Logo! World shrugs its shoulders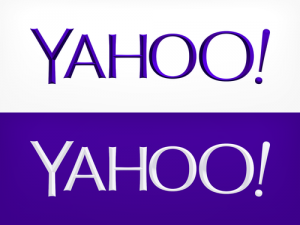 The wait is over! After thirty days and thirty ideas, Yahoo whips back the covers from its all-new logo. Despite the hype and build up, the final decision turns out to be something very safe and ordinary. Looking almost like something created using WordArt, the reverse-etched design looks like something that could be used on a gravestone. Were it not for the exclamation mark, that is -- that would just be strange.
The logo was revealed by Kathy Savitt, Chief Marketing Officer, on Yahoo's Tumblr blog where it is described as sticking to the company's roots. Savitt focuses on the words "whimsical" and "purple" as well as referring to the famous exclamation point -- ah, yes, the exclamation point that is a thorn in the side of any writer.
Looking back over the final choice and the other 29 candidates it is hard to pick out any that are particularly inspiring. Marissa Mayer points out that the Yahoo logo had not been updated in 18 years and that the company wanted one that was "whimsical, yet sophisticated… modern and fresh, with a nod to our history".
There's that word "whimsical" again. Does the new logo conjure up images of whimsy? No. It is dull, safe...old-fashioned even. Marissa goes into some detail about the processes involved in coming up with the new logo and there's even an accompanying video if you're interested in seeing how the logo came into being.
There may not have been many better choices in the thirty that were highlighted, but I can't help feeling that Yahoo could have tried a little harder. The new logo is a bold move. It is brash and ugly. In a world dominated by design, this is one logo that stands apart, but not for the right reasons. It looks like a first draft, not a finished design.