Corel launches PaintShop Pro X6 with 64-bit support, new selection tools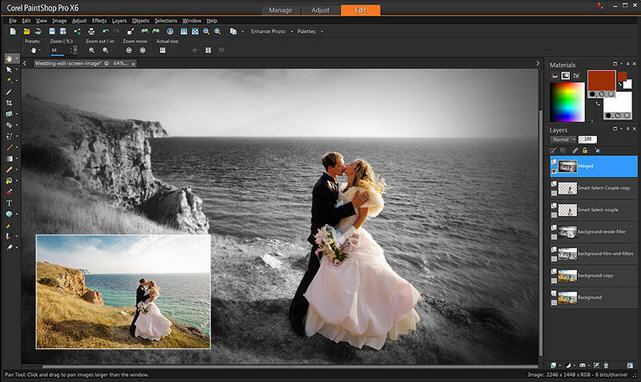 Corel has added 64-bit support to the brand new release of Corel PaintShop Pro X6, which should deliver major performance improvements on large-memory PCs running 64-bit versions of Windows. The new build also comes with a number of new selection tools, while the Ultimate build gains two new plug-ins.
The new 64-bit build comes with the promise of superior performance, with Corel claiming a 78 per cent performance increase when cataloguing JPEG files over the previous version. PaintShop Pro X6 also gains improved memory manage across both 32-bit and 64-bit builds, with the promise of accelerated file operations and effects application.
Other performance gains include being able to load a greater number of images -- as well as larger images -- much more quickly than before, with the promise of faster batch processing, multi-layer compositing and HDR processing as a beneficial side-effect.
The move to 64-bit architecture also sees PaintShop Pro X6 gain support for 64-bit Adobe Photoshop plug-ins in addition to support for the Photoshop image and brush formats.
PaintShop Pro X6 also bundles two new selection tools designed to speed up the process of selecting parts of an image for editing. A new Smart Selection Brush makes it possible to select objects simply by "painting" over them, while an Auto Selection tool attempts to automatically select the edges of objects after they've been roughly selected using a rectangular tool.
The Ultimate edition of the software also gains two new plug-ins: Perfectly Clear, which offers one-click image corrections, and FaceFilter 3 Standard, which provides photo retouching and "beautifying" tools.
Corel PaintShop Pro X6 is available now as a free fully functional 30-day trial download for PCs running Windows XP or later. A multi-core processor and 4GB RAM are recommended. The full version has a MRSP of $79.99, while the Ultimate version costs $99.99.