Best Windows 8 apps this week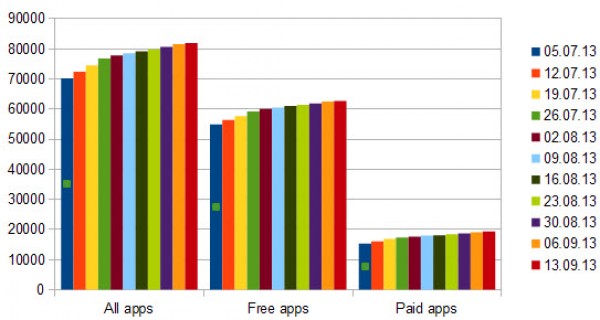 Forty-sixth in a series. The app growth this week fell under the 500 new apps mark when you look at the numbers. That is however only half of the story, as Microsoft seems to have removed quite a few applications from its store. The games category for instance lists 250 apps less than a week before.
The company must have removed more apps than this though, as new apps found their way into the games category this week as well.
The total number of apps this week in the US Windows Store sits at 81948 in total, an increase of 419 apps.
Free applications rose by 169 apps to 62636, and paid apps by 250 to 19312 apps.
Both counts can be higher, as there is no way of finding out how many new apps in total have been added to the store due to the removal of apps at the same time.
Big news this week was the release of Windows 8.1 to Technet and MSDN subscribers, a surprising move by Microsoft as the company had announced earlier this year that subscribers would not gain early access to the final version of Windows 8.1.
If you are unsure about the new version, check out Why I love Windows 8 by Wayne, and 27 great new (Windows 8.1) features aimed at the office by Derrick.
App of the week
Joining Hands 2 ($1.49, free trial)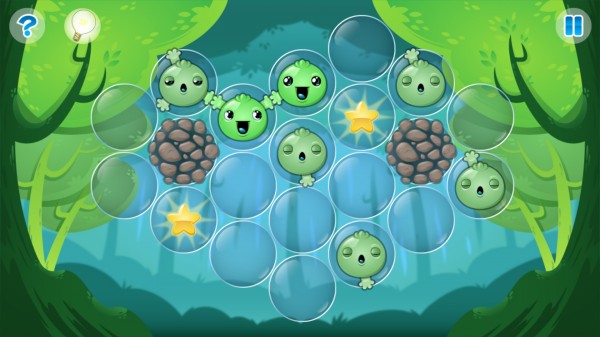 Joining Hands 2 is a charming puzzle game in which you have to move Peablins around on the game board so that all hands they have are joined in the end.
This may sound easy at first, but the game features different types of creatures: some with one, two or three hands, others that can only be placed on rock or next to it or do not have hands of their own but need to be surrounded to complete the level.
The first stages of the game act as an introduction that explains the game mechanics and the first couple of creatures. You can move the Peablins around as much as you want, there is no penalty here in regards to the number of moves in which you have to complete a particular level.
The game may actually be too easy because of that, as you can try for as long as you want without penalties. The help system, that you can use as often as you want as well, adds to that. While you do not have to use it, it may be too tempting for some to not use it when they get stuck in the game.
The game offers lots of variety that is introduced over time to it. Add to that the lovely animations and graphics, and you got a real winner here that is entertaining to play.
Other apps
Explorer8 ($4.99, free trial)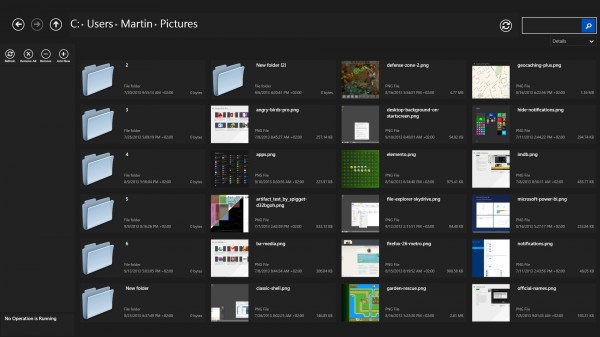 Explorer8 brings File Explorer functionality to the Start interface of the operating system. It may feel confusing at first but once you start to browse around a bit you will notice that the developer has put much thought into the application.
It ships with a light and dark theme that you can switch between, and offers tabs and shortcuts for fast and easy access.
Files or folders can be added to the favorites, or pinned to the start screen for fast eaccess. All file operations supported by File Explorer, copy, cut, rename or delete, are supported by Explorer8 as well.
The author has added other features on top of that, including previews for popular file types, multiple view options to list files and folders, full touch support for those on touch-devices, and drag and drop support for easy file moving between folders.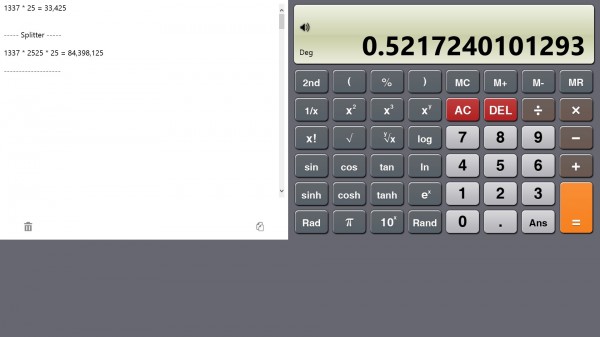 Windows 8 ships with one or two calculators of its own, depending on whether you are using Windows RT or Windows 8. The main appeal of Lucky Calculator is its history feature that displays previous calculations that you have made using it.
Its feature set is very similar to the scientific calculator that Windows 8 ships with, and the main difference is the design and layout. Lucky Calculator looks and feels more like a "real" calculator. That has no practical use whatsoeever though.
As far as features go: you can easily snap the calculator to the side of the screen to have it withinin reach at all times while you are working on a spreadsheet or other documents on the same screen.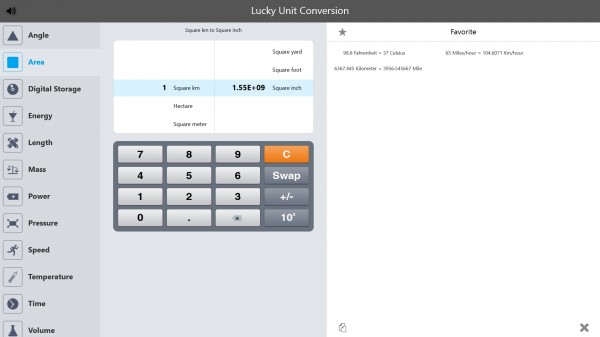 Microsoft has added a unit converter to the calculator application. It supports many different units and is an excellent tool for that job.
Lucky Unit Conversion, just like Lucky Calculator, improves the basic app. While it ships with the same set of units, it makes it easier to convert between them as you can just use the scroll wheel to select different target  units to get instant results.
The paid version ships with options to add unit conversions to the favorites. This can be useful if you want to have specific conversions in sight at all times.
Tip: The developer of the two applications has created several others that are available in the store right now. This includes the stopwatch application Lucky Stopwatch and the voice recorder Lucky Recorder.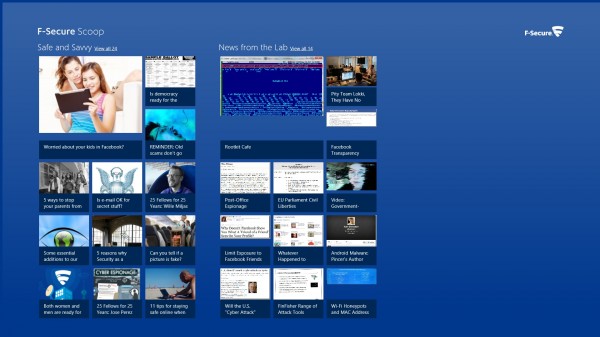 The application provides you with security news and digital lifestyle education. The latter offers a collection of tips that help you stay safe online and when using computer systems. F-Secure Scoop offers advice for inexperienced computer users, like 11 tips for staying safe online when you are traveling, but also articles that only tech-savvy users will understand.
The application is maintained by F-Secure, a security company that has been in the business for 25 years. It is not  the prettiest of apps. Basically, it is a collection of articles that the app displays to the user.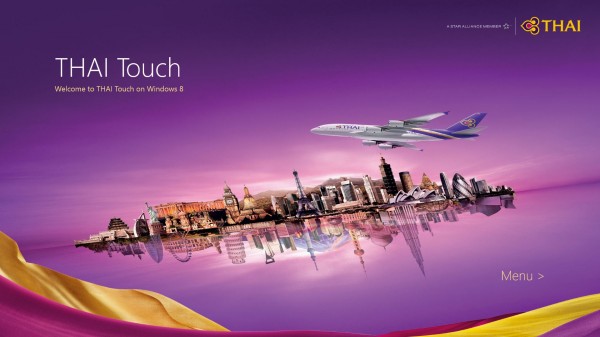 The official Thai airline app for Windows 8 provides you with access to information and services. You can use the app to book and pay for flights, check-in, access flight information and schedule, or to view your bookings.
The application lists special promotions and offers, and Royal Orchid membership program information. It last but not least provides you with a directory of Offices that you can contact, and information about in-flight services the airline offers.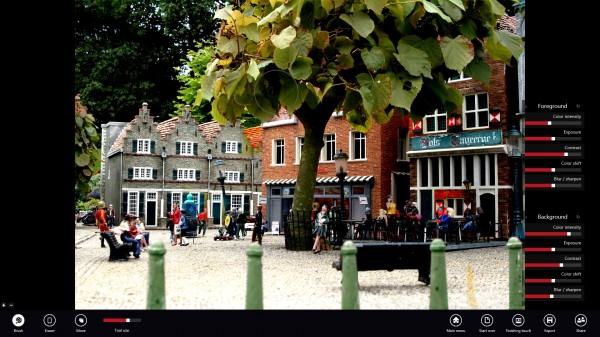 Selectiv is a photo editing application for Windows 8 that is available as a free (light) and paid version. You can load your own photos and images into the application or start with one of the stock images it ships with. The images that you load are loaded in black and white first.
Tools are provided to color part of the picture either in the default colors, or different colors. The idea here is to put the focus on specific parts of the image that you want to emphasize.
Images that you have modified can be exported to the local system, or shared directly using other apps that you have installed on the system.
The free version has the annoying habit of displaying a centered ad every time you load a new photo. While it is possible to hide the ad on the screen, it is quite annoying if you load a couple of photos in rapid succession.
TS Translator (limited free version, paid version $13.99)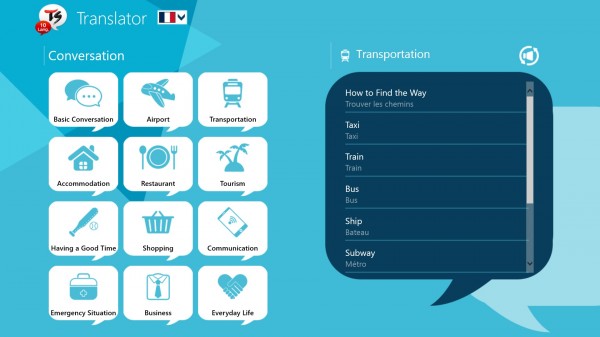 A free translator application supporting ten languages (English, Korean, Japanese, Chinese, French, German, Spanish, Thai, Indonesian and Vietnamese).
It is not comparable to Google or Bing Translator, as it makes available conversation samples only. The front page lists various scenarios like airport, accomodation or shopping, which all display a selection of sub-topics and then the actual conversation pieces.
Here you find the the phrase in your own language and the translation listed. If you click on that selection, you are taken to a page where you can listen to the pronunciation in regular and slow speed.
The free version only offers basic conversation topics, the paid version, available for $13.99 as an in-app purchase removes all restrictions.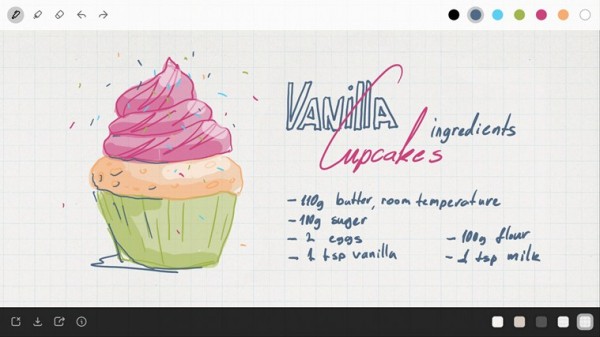 Bamboo Page is a note taking application for Windows 8 that you can use to jot down notes or sketches quickly.
It offers multiple paper types, various tools and colors to create notes quickly. Notes can be shared and exported using various linked services.