Windows 8.1 for work: 27 great new features aimed at the office

The countdown to Windows 8.1 is officially on. Whoever thinks that Windows 8.1 is squarely a consumer-centric release is heavily mistaken. After spending a month with Windows 8.1 Pro on my Thinkpad X230 Tablet, I can definitively say that Windows 8.1 is shaping up as a rock-solid option for the enterprise. I've previously written about why businesses should have been considering Windows 8 for their next upgrade cycles. With 8.1, Microsoft's latest OS is a service pack on more than a few steroids.
By any measure, I've been a vocal, bullish early adopter of Windows 8. My day to day consulting work for customers doesn't allow me to stay stuck on previous generations of Windows. Even if I did prefer Windows 7, my mixed client base is moving to 8 whether I like it or not. I need to be prepared for the questions and troubleshooting that ensues, which means I need to be their resident Windows 8 expert.
And I won't lie: Microsoft has pleasantly surprised me with Windows 8. Even on a non-touchscreen Thinkpad T410, my experiences with the new OS have been generally positive. Sure, my initial foray was met with skepticism and a twitch desire for the old and familiar, but I got past the mental speedbump and haven't turned back.
I readjusted my workflow when I made the switch off Windows 7. Mind you, I spend about 90 percent+ of my time in the Desktop interface on 8 (and recently, 8.1) and after a few hours of hunting for the Start button, I started to take advantage of the fruits that 8 offers. Searching for what I need instead of pecking through menus or organizing rows of shortcuts. Making use of the Charms. After a while it hit me: this new interface just made sense. I found myself saving time on mundane tasks that were otherwise nestled in click-here, click-there combinations.
My day to day work is highly dynamic and the needs of the hour determine what I'm working within. One minute I'm administering a server over Remote Desktop or helping a customer with our live support tool, ScreenConnect. The next I'm cranking out a proposal in Google Docs. Perhaps working on my company's financials in QuickBooks Online. Throw in some Hyper-V and VirtualBox usage for testing different OSes, and round out my day doing some number crunching in Excel. I have yet to throw a use case scenario at Win 8 that didn't feel right or work as expected. I also cannot remember a single "Blue Screen" since jumping ship from Windows 7.
This transition for the Microsoft OS ecosystem is no doubt a generational one. Not unlike Office when the Ribbon trashed the menu-heavy interface in version 2007. Not unlike how XP completely transformed the Start Menu from the die-hard Classic look/feel of Windows 2000. And to a lesser extent, not unlike Windows 3.1 which slapped a full GUI on us and rejected the notion that "everyone wanted DOS". I'm still not sure why companies like Apple can toss the revolutionary iOS on a generation of users without a hint of an uproar, and Microsoft is held to a last-generation expectation from the masses. Double standard, anyone?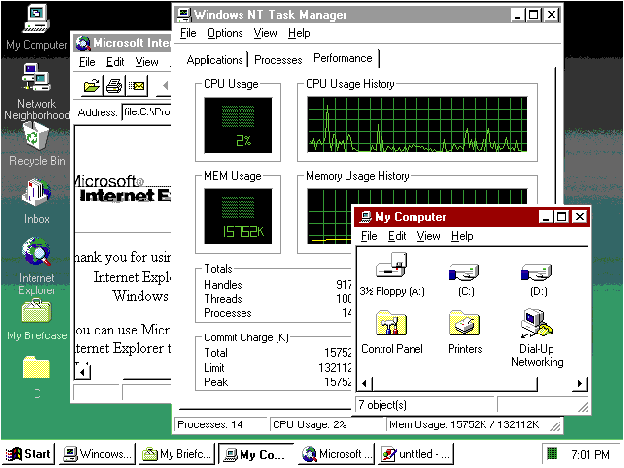 Just two decades ago, the command line of DOS gave way to the first wave of Windows GUI desktops in the workplace. Still yearning to go back -- for old time's sake? The removal of the traditional Start Menu is no different in conceptual progression. (Image Source: Microsoft)
Enough with the soapbox. Windows 8.1 brings a ton of new functionality to the table for the business, government, nonprofit, and education sectors. And the best part about the new OS? It's completely free. As in zero dollars, zero cost, you name it. Businesses that have already either partially or fully moved to Windows 8 will be able to get the update at the same cost of free as any consumer. This goes for organizations who also leverage Software Assurance or Volume Licensing for their Microsoft software rights. If you have licensing for Windows 8 or are getting access soon, you will be eligible to make the move to 8.1 at no charge. As you'll see below, there are few reasons not to take advantage.
So what are these neat new functionalities that Microsoft has baked into Windows 8.1? Here's a closer look at the ones I see as most relevant, divided into logical sections so you can peruse by category with ease.
Windows 8.1: Security
Drive Encryption for Everyone: Microsoft is dead serious about encryption security for Windows 8.1. That's why every edition of Windows 8.1 will have the underlying technology behind BitLocker baked in, with the Pro and Enterprise flavors getting full administrative control as was the case previously in varying extent since Windows Vista. Upon login with a Microsoft Account, any Windows 8.1 machine will have encryption for the main OS drive turned on by default. This is excellent news for medical offices who are facing the mad dash towards IT HIPAA compliance.
Remote Selective Data Wipe: Up until now, BYOD in the workplace has been a pain in the rear. When it comes to differentiating access to corporate data, traditional VPNs and share permissions off servers have done little to paint the black and white lines of what employees should keep and what needs to get returned once a worker leaves a business. We deal with it all the time in my consulting business. The next best thing to completely blocking BYOD has been Windows Remote Desktop Services, leveraging Session Based Desktops, but this doesn't meet everyone's needs.
Remote Selective Wipe in Windows 8.1 allows companies or organizations to specify what data is owned by the employer and should get wiped or indefinitely locked on the end user's device when they leave. This means companies can dole out more liberal access to critical data without fretting about what will get plucked when a valuable employee gets picked up by the competition. This helps reduce capital investment in laptops/tablets while enabling for a secure approach to BYOD which has never been offered on such a pervasive scale before.
Work Folders to Simplify File Access: The way we used to dole out file access to users was never intended for the modern BYOD workplace. Offline Files, remote VPN access, etc were all poor band aids to a big problem: how can workers get access on the go with relatively little effort, without ruining file synchronization on the server? Work Folders in Windows 8.1 (coupled with Server 2012R2 on the backend) solves this brilliantly. The technology is a lot like what SkyDrive offers on the personal and Office 365 side of things. Files can get assigned and synced to user devices for on-the-go editing access, and when an internet connection gets restored, the files are streamed and synced back to the central server. Remote file access that finally just works.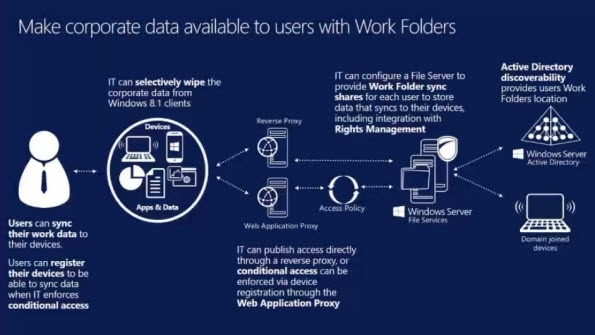 Work Folders bring the power of SkyDrive-esque technology to the native Windows 8.1 experience specifically for the workplace. Microsoft's cruddy Offline Files technology finally bids a long overdue farewell. (Image Source: Microsoft Channel9)
Microsoft has a great overview video of the tech on Channel9 as well as a nice in-depth writeup on TechNet.
Workplace Join is like AD-lite: It was either you were on a Workgroup or an AD Domain -- and that was it. Not anymore. Windows Workplace Join allows sysadmins to provide a "purgatory" of sorts that is not quite full AD, but not as loose as being joined to a Workgroup. You can watch a full demo of how simple this technology works from this year's BUILD 2013 conference.
Native Biometric Recognition Support: Fingerprint readers have been a mainstay for business line laptops for years. Most Thinkpads I have owned over the last ten years have had one. The problem is, they always required additional vendor software to use the functionality. This increases overhead, administrative effort, and in the end, also increases likelihood for issues over the long run. Which is one of the reasons why biometric uptake has been slow on Windows. Windows 8.1 has native fingerprint and virtual smart card support out of the box to secure the logon process. About time, Microsoft.
Network Behavior Monitoring in Windows Defender: While Defender alone should not be considered a comprehensive security solution, the fact that it will now have some HIPS functionality (Host Based Intrusion Prevention System) is reassuring. My company's favorite AV product, ESET NOD32, has had HIPS functionality since version 5. Microsoft is claiming that in Windows 8.1, Windows Defender will be able to spot suspicious network behavior from both known and unknown threats alike.
I wouldn't hinge my entire company's security plan around it, but it is reassuring to know that every 8.1 system out of the box will have a fairly decent level of protection from modern complex threats natively.
Assigned Access for Dirt Easy "Kiosk Mode": This new feature is especially nice for the education and business sectors. Previously, when organizations wanted to restrict access to a single interface -- for example, a web browser locked to a certain site or a given app -- they had to leverage combinations of complex Group Policies and/or AppLocker rules. These solutions worked, but boy, the amount of legwork and testing required made even the seasoned IT sysadmin sweat.
Assigned Access, which is available in Windows 8.1 RT, Pro, and Enterprise allows for admins to lock down an 8.1-powered device to function within a single, designated Windows Store app. It could be a reading application for Surface RT tablets in K-12 education. Or perhaps a line of business program for a sales force out in the field on convertible tablets. The uses are near limitless.
"The Most Secure OS Ever Made": According to Microsoft, Windows 8 is 21 times safer than Windows XP, and 6 times safer than Windows 7, from a malware infection perspective. Renowned AV vendor ESET has said similar praises about Windows 8 being the "most secure version of Windows ever." After years of noise about a mass exodus from Windows to Mac due to security, researchers are coming out and claiming that Macs have nothing inherently more secure about them, and new malware that hit OS X earlier this year is continuing to show the cracks in Apple's security-by-obscurity approach. For the enterprise stuck on an imploding island of XP machines, Windows 8.1 is looking like a much better replacement than Windows 7 or Mac.
Security in Windows 8.1 is a big deal. Security researchers have already begun saying that government agencies looking to upgrade to Windows 8 are making a "good move." And seeing that Microsoft has promised support for Windows 8 (and 8.1) through Jan 2023, the OS will enjoy a plush 10 year lifespan for organizations that make the move now.
Windows 8.1: Networking & RDS
Big Improvements for RDS: When used in conjunction with Server 2012 R2, Windows 8.1 with Remote Desktop Services Session Host Desktops (RDSH) allows for neat extended capabilities. For example, sysadmins and IT support staff can now actively view and control user desktop sessions to provide help desk style support and answer questions on functionality through Session Shadowing. The networking side of RemoteApp has been markedly improved even further, allowing for crisper usage of RDS-hosted RemoteApp programs in low bandwidth scenarios like on mobile 4G cards or at wifi hotspots. RDS on 8.1 also finally introduces multi monitor support for users, meaning that "Terminal Services" doesn't have to be a second class experience. This also includes full touch capability for RDS sessions!
New Simple Printer Connection Options: Two new wireless-enabled printing capabilities are being added natively to Windows 8.1. The first, Wi-Fi Direct, allows anyone to connect a mobile device to a Wi-Fi Direct printer to leverage ad-hoc printing without the need for drivers or an existing wireless network. NFC tap-to-pair printing is very similar, and can allow an NFC device like a smartphone to merely "bump" a printer that has an NFC tag placed on it to establish a simple direct printing connection on the spot.
Easy Hotspot Creation from your PC: Internet Connection Sharing has been around for a long time. But it's been a junk feature for as long as I can remember. Hard to configure, and even more difficult for others to leverage. Windows 8.1 brings the notion of easy hotspot creation to every PC, which is great for situations where, for example, staff members are trying to share a single wired LAN connection at a conference room before a sales presentation. Wi-Fi isn't ubiquitous or free everywhere yet, so this is a welcome new feature for mobile road warriors.
Auto-Triggered VPN Access: We're all used to the errors and access issues presented by applications we just forget that need VPN access to the corporate network when in the field. Windows 8.1 looks to solve these dilemmas once and for all with Auto-Triggered VPN settings that can prompt for necessary VPN credentials whenever certain items necessitate them. Forgetting to connect to the VPN won't end up in a molasses-crawl to the expected "access denied" prompts anymore.
Better Out-of-Box VPN Client Support: You can cross four vendor VPN application add-ons off the list of programs needed to get onto the corporate network. Microsoft has caked in native support for SonicWall, Juniper, Check Point, and F5 VPN firewall connectivity. You check check out the short spiel on this from the BUILD 2013 event on Windows 8.1.
Simplified, Easy Management of Devices in Windows Intune: Windows 8.1 and 8.1 RT brings the next progression of Windows Intune to the forefront, allowing for unified centralized cloud management of all your Windows devices. Schools, nonprofits, and businesses can all benefit from such management capabilities, especially on the Windows RT side where devices cannot be natively joined to Active Directory. What used to be relegated to MSC 2012 for an on-premise server is now extended fully to the cloud with Intune.
This is excellent news for organizations with little budget for capital expenses on servers and extensive setup labor. Intune comes in as cheap as $6 USD/month for licensing without Software Assurance -- a real bargain compared to some BYOD management suites.
Windows 8.1: UI & Functionality
Smart Search: If you happened to enjoy the excellent built-in search capabilities in Windows 8, then 8.1 is not going to let you down. The same speedy, integrated search experience still exists and permeates in Windows 8.1, but is brought to the next level via Bing inclusion. This means you can search for anything from the Modern UI interface. Last week's financial spreadsheet, your family photos from vacation, the apps you use day to day, and internet-powered results for items like news, weather, research material, etc. Paul Thurrott goes into excellent detail on this functionality on his blog.
Windows Button "Right Click Menu": The fact that the Start Button is  back in a limited form is old news. The best part about the new Start Button is the hidden "right click menu" that provides a juicy amount of easy access to numerous functions most IT pros take for granted. Heck, many of these items are now easier to get to then they were in Windows 7. This not-so-secret menu makes it simple to shut down your machine, open command prompt, or a bevy of other options. Yes, this easter egg of sorts existed in stock Windows 8, but the addition of the new power-related options make this revised menu a keeper. See below for more information.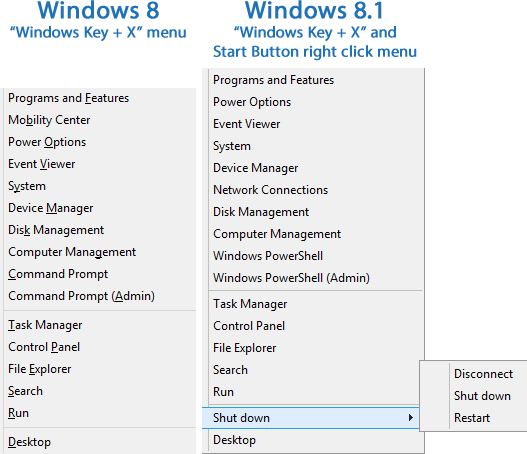 Boot Straight to Desktop Mode: This is awesome news for workers like me, that spend a majority of their time in the Desktop interface and only dabble onto the Modern UI for a little after-hours activity. In 8.1, anyone can configure their PC to boot straight to the familiar desktop interface, meaning you can get straight to work, bypassing the Start Screen entirely. A small, but timely, touch.
Just as Fast, Just as Slim as 8: This isn't necessarily a feature per-se, but it's one heck of a nicety. Not only does Windows 8.1 have the same exact hardware requirements as Windows 8 - but these happen to be the exact same requirements as Windows 7 had. What gives? Microsoft has created a lean mean, processing machine in Windows 8 and the trend continues. While I don't have any hard numbers or results to back it up, my non-scientific feelings lead me to believe that 8.1 runs smoother than 8, most notably on startup and shutdown. SSD users are in for a blazing fast experience. You will likely miss the new boot screen with the funky Betta Fish if you don't look carefully.
This also means that those computers which would have otherwise gotten canned at the office can more than likely get upgraded to Windows 8.1. Seeing that Windows 8 did away with the memory and battery intensive Aero interface, you will also ideally see better pound-for-pound normal usage performance from Windows 8.1 then you otherwise would with the same specs loaded up on Windows 7.
The bloat that Microsoft was known for from Windows 2000 to XP, then from XP to Vista is a thing of the past.
Miracast for Wireless Display Projection: Miracast is an open alternative to (but fully compatible with) Intel's WiDi technology that started the wireless projection market. Windows 8.1 has this neat technology built right in, which means if you have a Miracast enabled projector in the board room, but your laptop doesn't have the DisplayPort connection that it needs, you can use Miracast to setup a Wi-Fi Direct signal to the unit in order to present your material. Xbox One has this built in as well, and many new displays and projectors are promising to bundle this technology going forward. Could this be the beginning of the end for cable and dongle-heavy board rooms? Time will tell.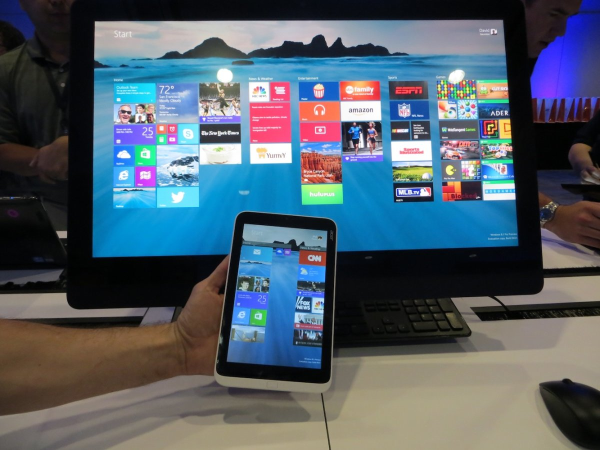 (Image Source: BusinessInsider.com)
Windows 8/RT Store Not a Ghost Town Anymore: The media kept rubbing Windows 8 for not having much of a useful Windows Store at launch last year. How the tables have turned. While the situation is not on par with what Android or iOS have, the fact that Windows Store now offers 54% of the top 100 iOS apps is pretty commendable 10 months in. As of September 1, the Windows Store had over 114,000 apps and counting. The list will only keep growing as time goes on.
Internet Explorer 11 is Faster, Safer: As if a new Internet Explorer release was ever missing those two descriptions, IE11 promises a little bit of "better everything." Faster load times, better compliance with web standards and HTML5, side-by-side browsing of sites, and deeper anti-malware integration for catching nasties before they are even allowed to launch. For companies that rely on a strict policy of IE due to corporate protocol or ease of administration, IE11 will be a no brainer to make life easier on the end-user and management fronts.
Surface RT gets Outlook 2013 with 8.1 RT: A lot of news outlets are forgetting to cover this factoid, but for business professionals leveraging the Surface RT, they should know that Outlook 2013 is launching alongside Windows 8.1 RT for the Surface RT. Free of charge, of course. This means Office 365 users who have Exchange Online accounts, or other IMAP/POP users, can easily connect their email to arguably the most powerful email and organization app ever made for the computing world. I'm rolling out Surface RT tablets at some of my customer offices, and this will make the product even that much more attractive for the workplace.
3D Printing Support Out-of-the-Box: Not the biggest deal for most businesses (yet), but if the 3D printing revolution ever takes off, Windows 8.1 has the necessary hardware/software support built in to leverage the technology natively. My only experience with 3D printers was at my old school district job, where the Applied Arts department had one that could make CAD-developed prints out of plastic in 30-60 min timeframes. Perhaps the newest generation of these units are much more dazzling in wait times. I expect numerous markets to start taking advantage of the dropping price points and improving technology to bring their once fanciful creations to life.
Multi Monitor Support that Rocks: I thought my dual screen capabilities were awesome in stock Windows 8, but 8.1 just takes it to a whole new level. Dragging and dropping individual Modern UI apps to different screens is fully supported for the first time. The Start Screen can be accessed via Charms that work on any screen now. The taskbar can be fully extended over a single set of monitors as well. And the level of customization that is now inherently provided for snapping and resizing Modern UI apps and your Desktop interface are limitless. Multi monitor workstations will greatly benefit from Windows 8.1 -- further creating screen envy among your coworkers.

Prefer to use a hybrid Desktop-Start Screen setup with your dual screens? Such new combinations, and more, are finally possible in Windows 8.1. Microsoft has taken multi-monitor support to the next level and truly created a customizable experience worthy of what Windows 8.1 offers. (Image Source: Microsoft TechNet)
(Even) Better Battery Life: My day-to-day Thinkpad T410 got a boost of about 30-45 mins when I made the switch from Windows 7 to Windows 8 last fall. Pretty significant. While I don't have as much data to back up a statement on Windows 8.1, naturally, Microsoft is saying that OS is taking big advantage of the power saving capabilities in Intel's Haswell platform. I'm itching to see how the final RTM build handles my Thinkpad X230 Tablet as my new primary mobile workhorse, but the 8.1 Pro Preview has been giving me a solid 6 to 6.5 hrs of life on an 8 cell battery. Impressive for a pre-release, buggy iteration.
Hand-in-Hand SkyDrive Integration: It's no surprise that Microsoft is tightly combining the features of SkyDrive Personal into Windows 8.1. The cloud storage tool is a worthy competitor to Google Drive; and heck, I use it now for all of my personal Office document storage because it just works cleaner than Drive due the fact that I can leverage Office Web Apps on the go when I need to. SkyDrive is now a persistent default save location for numerous functions and apps in Windows 8.1, going beyond what Office 2013 brought to the desktop in terms of pushing SkyDrive. Hey -- there's life beyond work, after all.
Auto Predict for Touch Typing / Tablet Mode: For those using Windows 8 on tablets, like the Surface RT, typing in touch mode was a bit of a chore for a lack of proper auto predict. Windows 8.1 resolve this quite nicely. Now, you can continue typing and use predictive suggestions from the OS with complete ease. This means that Surface RT users in the field within tablet mode shouldn't have to go into laptop mode that often anymore for short-spanned typing. Should make Word 2013 a breeze to use without the cover opened!
Windows 8.1 hits the market officially for everyone come October 17, and is a completely free update for all. My company will definitely be recommending 8.1 for both consumer and business usage as time goes on, especially if the wonderful improvements from the Preview translate into real-world benefit for end users come October.
I'm calling it now: Windows 8.1 is the new Windows XP for the workplace. Just watch.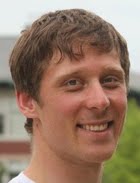 Derrick Wlodarz is an IT Specialist who owns Park Ridge, IL (USA) based technology consulting & service company FireLogic, with over eight+ years of IT experience in the private and public sectors. He holds numerous technical credentials from Microsoft, Google, and CompTIA and specializes in consulting customers on growing hot technologies such as Office 365, Google Apps, cloud-hosted VoIP, among others. Derrick is an active member of CompTIA's Subject Matter Expert Technical Advisory Council that shapes the future of CompTIA exams across the world. You can reach him at derrick at wlodarz dot net.