Meet the Logitech Ultrathin Touch Mouse T630 [Review]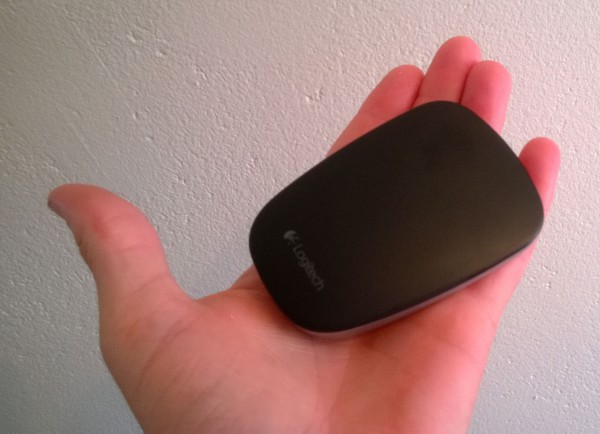 I love laptops for their portability, but I despise touchpads. Every laptop I use gets the same treatment -- a micro-sized USB receiver and a travel-sized mouse, with the laptop touchpad disabled. In other words, I am a mouse person. The mouse, as an input device, is not new and has changed relatively little in the course of modern computing history. So while my phones, tablets and computers move forward, a trusty and cheap Logitech M185 has been hooked to each PC.
Now Logitech has decided to thrust me into the modern computing era by shipping a brand new "Ultrathin Touch Mouse T630" right to my doorstep.
A Shock to the System
I may sound dated thanks to my previous choice in peripherals, but the T630 was a bit more than just a surprise to me. I am comfortable with that traditional mouse shape and size -- the new gadget initially felt too small...too foreign in design. It's thin to the point where my hand feels as if its resting on the desk.
There are also no distinguishable buttons, no scroll wheel -- two missing fixtures from my comfort zone. Don't get me wrong, I knew all the features were present, but only a learning curve remained -- yes, I sound like a newbie, but a mouse is generally not something I am asked to change, so it's been a while.
Tale of the Tape

This mouse works with both Windows 7 and Windows 8/8.1, as well as Mac 10.6.8 or newer (though a special Mac version is coming in November).
The T630, at its broadest points, measures 3.25 inches in length, 2.25 inches in width and 0.5 inches in depth, though that tapers significantly towards the front end.
The T630 charges via a standard micro USB cable, the same as most phones and tablets. The company claims one is included in the package, though I did not receive that.
Begin Launch Sequence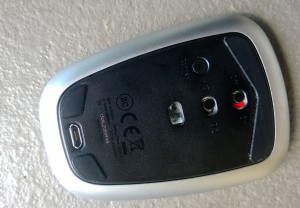 The Logitech Touchmouse is Bluetooth, which makes setup easy, though no simpler than plugging in a micro-sized USB receiver. You will need to initialize the setup, but I am perhaps preaching to the choir telling you this. Still I feel the need lay out the brief sequence for those who may not know -- and I am using Windows 8.1, so there are some minor changes.
I'll be brief and to the point -- head to the Charms menu, click Settings and then PC Settings. Choose PC and Devices, then Bluetooth. The computer will automatically begin searching, but it will find nothing if you do not quickly turn the Logitech mouse belly-up, switch it on and hit the Connect button.
Pairing may take a minute or two, but I encountered no speedbumps along the way. With this process out of the way, then the real fun begins -- you can actually use your device.
What Channel am I on?
The T630 has two channels, controlled by a button on the bottom -- channel one can be your laptop, while two interfaces with a desktop -- it's an open field and tablets are fair game as well. You get the point -- the peripheral handles two devices at once with a switch of the button on the bottom to move back and forth. That's a key feature in this device, because these days many of us move from one device to another with a regularity that is almost scary.
Looks are not Just Skin Deep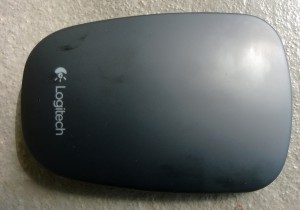 The T630 is certainly not for everyone. The mouse is tiny, feeling like almost nothing under your hand. The click buttons are hidden and scrolling is a swipe of the finger up or down the surface. The mouse may not be ideal for a desktop environoment, but for portability it gets five stars.
The peripheral does not come cheap though -- expect pay $70 MSRP for this tiny device. If you do a lot of traveling then the price will be well worth it, The Logitech T630 Ulrathin Touch Mouse will begin shpping before the end of September and a white-colored Mac edition will follow in November.