GOCLEVER announces 7-inch Aries 70 to bridge phone/tablet divide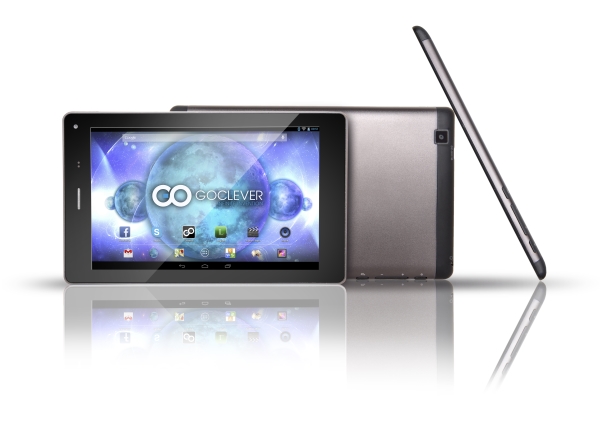 With the release of the Nexus 7, Tesco's Hudl and new Kindle Fire HD and HDX, there are certainly plenty of tablets to choose from with screens around the 7-inch mark. GOCLEVER is the latest contender to enter the ring, announcing the availability of the 7-inch Aries 70.
Although this is a tablet with a budget- to mid-range price tag (£159.99 or €189.99), there is still a quad-core processor lurking in the innards -- pegged at 1.2GHz. Integrated GPS is a useful feature and, coupled with the 3G connection, makes it ideal for popping on the dashboard and getting directions on the road. The preinstalled maps perhaps reveal the Aries 70's roots or target market -- if you need to find your way around Poland, the Czech Republic or Slovakia, you're good to go right out of the box!
The processor is backed up with 1GB of RAM, and while internal storage is limited to 8GB, a MicroSD slot means that this can be increased. Graphics are powered by a PowerVR SGX544 and a front facing 0.3 MP camera complements the 2.0MP rear-facer. The Aries runs Android 4.2.2, has a range of apps pre-installed and comes complete with a protective screen cover that doubles up as a stand. The SIM card slot means that the tablet can also be used as an oversized phone.
While the display does not match the resolution of the Nexus 7, the IPS screen packs in 1280 by 800 pixels -- the same as the Kindle Fire HD. If 7 inches doesn't feel like quite enough, there are a couple of larger screened models to choose from. The Aries 785 has a 7.85in screen, while the Aries 101 increases this to 10.1in; all three screens have the same resolution. The two larger models are available in white or graphite designs, and the 10.1 inch version has a larger 7.5mAh battery which increases battery life to 7 hours.
The Aries 70 is available for £159.99 from 7 Day Shop. There's no word on US availability at the moment, there's always scope for importing from Europe if you live outside of it.