NirSoft's new NetworkConnectLog tracks everything that connects to your network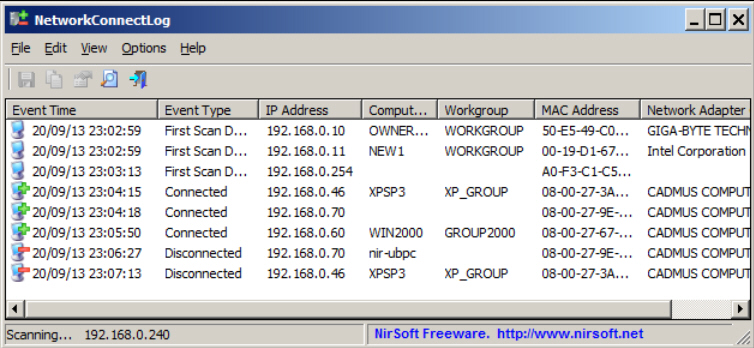 The ever-productive Nir Sofer has announced another NirSoft freebie, NetworkConnectLog, which monitors your network and logs each device as it connects and disconnects.
The end results can be informative if you're curious about network usage, or perhaps are just wondering whether anyone else is illicitly accessing your wireless network. Check the NetworkConnectLog table occasionally and you'll see a list of everything that's connected to or disconnected from your network, including its computer name, workgroup, MAC address, IP address, network adapter manufacturer and connect/ disconnect time.
As usual with NirSoft tools, this data can be saved as an HTML report for easy reference later.
And if the program doesn't check the right network adapter on your system, then it only takes a moment to point it in the right direction (Options > Scan Options).
The log isn't always reliable. NirSoft says that smartphones won't always respond to ARP requests, and so may be incorrectly displayed as "disconnected". And we found that the program sometimes failed to recognize that devices had been disconnected, instead showing them as active.
In our tests NetworkConnectLog did always recognize new devices as they were connected to the network, though, and that's enough to make it useful. It's also compact and portable, with no adware or other bundled components, so if you're interested in this kind of tool then you can download and try it without penalty or problems.