Microsoft's new Surface commercial aims to show off the tablet's versatility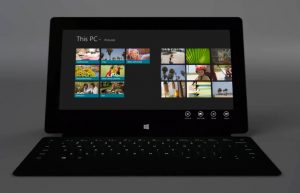 What, you were expecting dancers and clicking covers? No, it turns out having tried and failed to sell the original Surface in that way, Microsoft has decided to take a different tack for the follow ups, with an advert that actually highlights -- at speed -- some of the reasons why you might want to consider buying the updated tablet.
The 30-second spot, titled "Surface 2: Thinner. Lighter. Faster" focuses on (can you guess?) the tablet's dimensions, weight and speed, but also very briefly shows the revised kickstand's two angles and Surface's choice of clickable covers, including a backlit one.
The commercial is mostly about the new Surface's looks, with Windows 8.1 and the running software rattled through at super speed (as a way of highlighting the device's performance).
My only slight niggle with the advert is towards the end the device looks like a thin and rather dull black laptop rather than a tablet, but Microsoft is clearly trying to show that Surface is much more than just an expensive iPad alternative. The video description, which reads: "The new Surface is thinner, lighter and much more than a tablet" certainly suggests plans to push the device's versatility.
The description finishes by adding, "With an available click-in keyboard and Microsoft Office, you can multi-task like a pro" which is good news for anyone playing the Surface drinking game (take a swig every time Office is mentioned in relation to the device).
Anyway, take a look at the video, and leave your comments about it below. Does it sell the product enough to make you want to buy one?
Consumers can pre-order the Surface 2 and Surface Pro 2 now, with both variations going on sale officially on 22 October.