Logitech announces the UE MINI BOOM -- small speaker with big twerking potential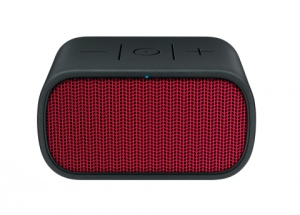 I am a big fan of music -- it is my passion and hobby. While the MP3 music-revolution has allowed us to fill our smartphones and tablets with tunes, the speaker quality on those devices tend to be poor. Conversely, on my home desktop, I use the wonderful Logitech Z-2300 2.1 speakers. I have owned these for many years with amazing results and, therefore, I view Logitech favorably for audio quality.
Today, the company announces "a major upgrade to the popular Logitech UE Mobile Boombox with UE MINI BOOM, a surprisingly small speaker that delivers unexpectedly huge sound in stylish and vibrant color options. The UE MINI BOOM takes the Ultimate Ears expertise in filling small speakers with big sound to a new level, with a personal speaker with clear highs and deep bass, giving you great stereo sound wherever and whenever you want it".
"With a battery that lasts up to 10 hours, simple controls and Bluetooth connectivity, the UE MINI BOOM is the perfect music companion, whether you're streaming music videos, hanging out with friends or traveling. It streams big sound from any Bluetooth-enabled device from up to 50 feet away, and with such huge sound, you'll need the extra distance. Thanks to its convenient micro-USB charger, it's easy to find a charge for your UE MINI BOOM almost anywhere. Plus, you can wirelessly pair two UE MINI BOOM speakers together after downloading the free UE MINI BOOM app (available for iOS and Android) to double the sound", says Logitech.
Yes, you can pair two of the Bluetooth speakers together for an even louder experience. In other words, with the right song, you will be twerking like Miley Cyrus with maximum volume! However, dual speakers are not only beneficial for volume, they will enable superior stereo separation by allowing the user to place them in optimal locations.
Logitech also says, "the UE MINI BOOM is available in a range of vibrant colors, including orange, purple, red, yellow and black. It can withstand some rough-and-tumble, thanks to its durable metal frame and rubber casing, so you can throw it in your purse, duffel bag or the trunk of your car without worry".
With an MSRP of $99, a diverse range of colors and solid durability, this seems like a great Bluetooth speaker option. The optional expandability with a second speaker is just icing on the cake. Of course, sound quality is the most important factor -- expect a review soon.