Retrotastic! Microsoft uses 18-year-old game Hover to show off Internet Explorer 11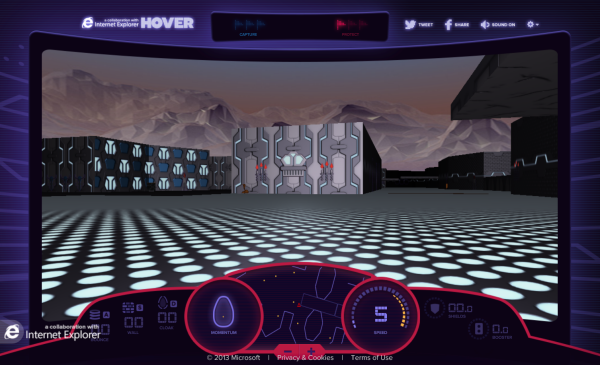 If you can cast your mind back far enough to the dim and distant days when Windows 95 was taking the world by storm, you may well remember Hover. Taking more than a little inspiration from Doom, this fun driving/maze game was buried on the installation CD of Windows 95. It was responsible for the loss of many hours that could have been spent doing something far more worthwhile -- but probably less entertaining -- and it's back! Hover is back!
The game has been revived to show off the capabilities of Internet Explorer 11, and you can try your hand at it -- for the first time or to relive your youth -- by heading over to Hover.ie. But more than this, the game feature touchscreen control so it's also a great way for Microsoft to highlight the causal gaming capabilities of the recently announced Surface 2.
You're in for something of a treat. The visuals have been spiced up, the music is rockier than before, and the game is just as hard to control as it ever was! It's classic capture the flag stuff, and there's a multiple player mode that you can used to battle against your friends.
But perhaps most interesting of all, particularly for the nostalgically minded, is the Easter egg. Type "bambi" at the title screen and you'll be transported back in time 18 years and given the chance to play the original game in all of its 256-color glory. There's even an emulated Windows 95 desktop to give you that true 90s feel. Double click the mocked up Facebook and Twitter installer shortcuts to share your excitement.
You can also browse through the contents of a Skydrive folder called Funstuff (the name of the folder in which you would have found Hover all those years ago). Here you'll find a still from Weezer's Buddy Holly video -- which was also featured on the Windows 95 disc.
So, pull on your retro pants, check out the wonderfully satirical introductory video, and party like it's the mid-90s all over again. Go Hover! Oh.. and it doesn't matter if you're not using Internet Explorer... hooray!