CBS releases streaming app for Android and Windows 8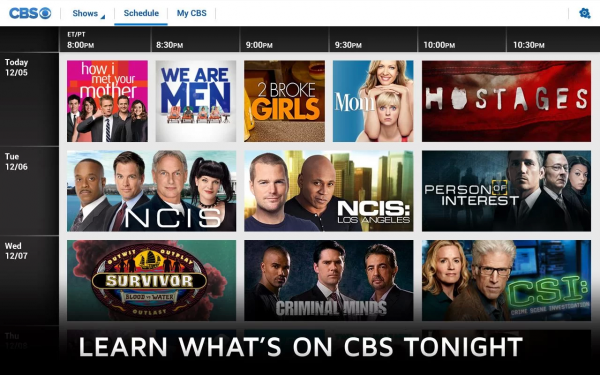 When the CBS app was launched for iOS in March, Android users felt slighted. After all, Android leads in market-share -- why shouldn't it get the app first? Not to mention, many Android users are very nerdy so Big Bang Theory is a natural fit. Today, CBS announces that not only is it finally releasing it for Android, but for Windows 8 too.
Jim Lanzone, President of CBS Interactive says, "when we launched on iOS in March, we promised fans we would bring the CBS App to all major platforms by fall premieres. Today we are doing exactly that".
The television executive further explains, "in addition, we're launching new social and second-screen features, as well as access to more content than ever before. We've seen a tremendous response to the app to date, and we'll continue to innovate on behalf of CBS fans in the weeks and months ahead".
"Daytime and late night programming is available within 24 hours after initial airing, while most primetime programs will be available on the eighth day after broadcast", says the eye-ball logo company.
Surface RT users can get excited as the app works on both Windows 8 and Windows RT. CBS claims that it will work on all Android devices running 4.0.3 and higher. In my testing, it was compatible with a Nexus 7 running 4.3 and a Droid Maxx running 4.2.2. Shockingly, Blackberry 10 support is promised for the future but I wouldn't be surprised if it ultimately gets cancelled due to the smartphone manufacturer's woes.
Android users can download the app here, while Windows 8 users can grab the app here.