Archos announces the GamePad 2 -- Nintendo and Sony competitor?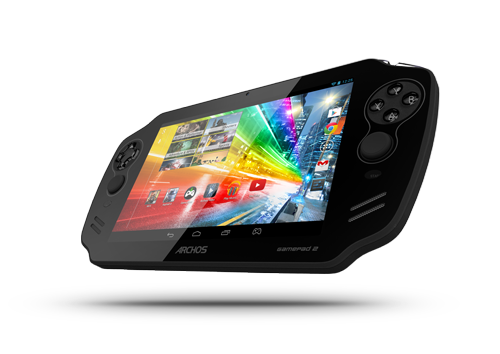 I used to exclusively be a home console gamer -- I preferred playing games on a TV screen as opposed to a tiny handheld display. Heck, I even grew up during the GameBoy era but never got one. The NES was a better option for me, as portability was not a need at the time. Truth be told, I didn't get into mobile gaming until I got my first Android phone. Since then, I play all of my games on a smartphone or tablet. Sadly, platformer games are my favorite genre and virtual d-pads are a poor experience. I have always dreamed of an Android device with dedicated gaming buttons.
In July, the NVIDIA Shield was released. However, it serves as a dedicated gaming handheld -- it cannot realistically replace a tablet. It didn't make financial sense to buy both a tablet and the NVIDIA handheld. Today, Archos announces a new Android-based, 7-inch tablet that also serves as a gaming machine, called the GamePad 2 (the successor to the GamePad 1). In other words, it combines the functionality of a Nexus 7, with the gaming controls of the NVIDIA Shield. Amazingly, the company is releasing the product in Q4 of 2013, for the low price of $199.
Of course, while the screen size is the same as the Nexus 7, the quality is not. You see, the GamePad 2 only has 1200x800 resolution, whereas Google's tablet has 1920x1200. While Archos' screen is not the top-of-the-line, it should be more than enough for the average user.
Regarding the raw power, the company says, "powered by an A9 generation quad-core processor running at 1.6GHz coupled with a fast Quad-Core graphics processor and 2GB of system RAM, the Archos GamePad 2 has more than enough power to play the latest 3D games smoothly...thanks to super energy-efficient 28 nanometer processor technology and a much larger battery than normally used on a 7 inch tablet, [it] has vastly improved battery life whether in gaming or simply when browsing the web".
Archos further explains that the tablet "features more precise, incurved dual thumb-sticks, double buttons on each shoulder, a single part directional pad and a vastly improved button click-feeling for a better physical gaming experience. Combined with the updated version of the critically praised Game Mapping Tool, first featured on the GamePad 1, that lets users map any touch-screen button game to work with the physical controls, the Archos GamePad 2 offers an improved android gaming experience for hundreds of thousands of free and paid games".
The following are some of the specs of the device:
Display -- 7-inch: 1280 x 800 pixels, IPS
Operating System -- Android 4.2, Jelly Bean
Processor -- Quad-core A9 @ 1.6GHz, Quad-core GPU Mali 400 MP4
Capacity -- 8GB or 16GB, plus micro SD (compatible with cards up to 64GB)
RAM -- 2GB
Video Output -- mini-HDMI
Dimensions and Weight -- 200.5 mm x 154 mm x 9.9 mm (7.9" x 6.0" x 0.39"), 400g (0.88 pounds)
Camera -- Front webcam only
While I don't expect the GamePad 2 to defeat the Nintendo 3DS or Sony PlayStation Vita (that would be crazy), I do think that Archos' tablet has an audience; some consumers will prefer it. After all, games for the 3DS and Vita can cost upwards of $40.00, while quality games in Google's Play Store can be had for as little as 99 cents. The company is even bundling two games (Asphalt 8 Airborne and Modern Combat 4: Zero Hour) for free. Not to mention, unlike the 3DS and Vita, the GamePad 2 serves as a full-fledged tablet with Google Chrome and productivity applications.