New Wi-Fi hotspot locator for professionals on the move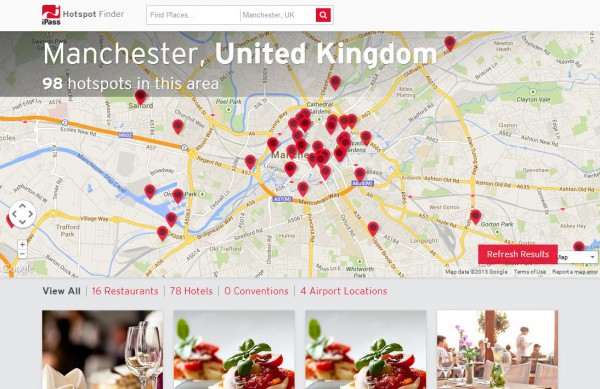 Leading provider of enterprise mobile services iPass has launched its new iPass Hotspot Finder. The browser-based tool has a completely redesigned user interface and includes several features that help business travelers make informed decisions about hotspot connectivity.
Hotspot Finder doesn't need an iPass account, provides access to over 1.4 million hotspots in the iPass network and can be used from any browser for free.
"Access to the iPass network of over 1.4 million hotspots has never been easier and more informative," says Barbara Nelson, CTO of iPass. "The new interactive maps, location-based hotspot results, and integrated photos included in the new browser based iPass Hotspot Finder, deliver an efficient and informative experience, enhancing productivity for business travelers while on the go".
Rather than just showing pins on a map the Hotspot Finder delivers real-time information about each location. It can automatically recognize IP address and browser location data to instantly pinpoint a user's location and all of the iPass network hotspots located within a 10-mile radius. It also provides hotspot categories in the most popular cities, as ranked by the number of iPass connections worldwide. Photos of city landmarks and lists of popular destinations and local cuisine are shown to give users a sense of the area, local offerings, and hotspot venues categorized by locations such as hotels, airports and restaurants.
As part of the launch iPass is running a Hotspot Challenge promotion with prizes for people who connect to the most hotspots. Click the link for more details of prizes and how to register.