Opera 17 FINAL adds pinned tabs, custom search engines and startup options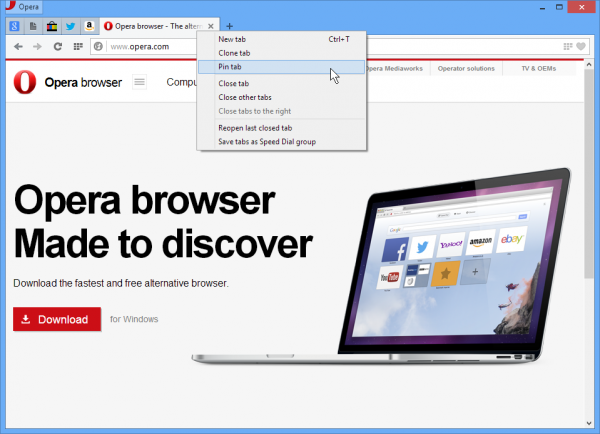 Opera Software has announced the release of Opera 17.0 FINAL, an interesting build which includes several small but worthwhile new features. Top of the list is a new "pinned" tab option.
If you have a few tabs which you need to stay open, just right-click them and select "Pin tab". The tabs will be reduced to the size of the page icon (handy if you are running short on space), and you will not be able to close them accidentally.
There's more control over Opera's starting page. By default the browser just resumes where you left off, but a new Start-Up option (Settings > Preferences > General) now allows you to start with your home page, Speed Dial or the startup dialog.
Opera 17 now includes a mechanism to extend the browser's built-in search engines with any others you like.
The browser is based on Chromium/Blink 30, and developers will gain new support for three extension APIs: chrome.bookmarks.* , chrome.commands.* and chrome.webNavigation.*.
The changelog has more details, if you really, really need them.
Opera 17.0 FINAL is available for Windows and Mac now. And others? Maybe, but you'll need to be patient. On the official Opera desktop blog, the company stated that: "there will be a version of Opera for Linux, but not yet".