Why is Nokia showing a smartphone, tablet and laptop ahead of the Abu Dhabi event?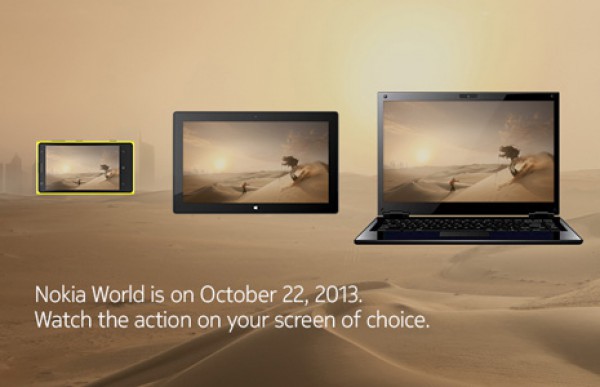 Let me preface this story by saying that, here at BetaNews, we have a policy against discussing rumors. Quite often some "leaked" information, provided by anonymous sources, turns out to be false, and we feel that it is best to report details that we know to be true, based on official sources that can be verified and our experience with various products. That said, I cannot help feeling surprised by what Nokia just revealed in one of its blog posts, after reading the rumor stories floating around the InterWebs.
Prior to any major press event Nokia usually posts a teaser showing a small part of an upcoming product, or a hint at what will be unveiled. This approach is designed to keep people interested, or to pique their interest at least, and add a shroud of mystery. But this time around the Finnish maker has released a full-blown poster which most likely features all the devices that the company will announce in Abu Dhabi, the place where its next big press event will be held.
The poster in question, which you can see above, shows a yellow smartphone -- that is most likely running Windows Phone judging by the top and bottom bezels, the key arrangement on the side and the color -- next to a tablet -- that appears to be a Windows 8.1/RT 8.1 device based on the white key present at the bottom and Nokia's relationship with Microsoft -- and a laptop or ultrabook -- that, again, is also likely running Windows 8.1 as I previously explained.
Of the three devices shown there, the first two are likely the Lumia 1520 and the Lumia 2520 with which you may already be familiar, in terms of rumors, based on the stories published so far on many tech blogs. I will not go into their specifics, as Nokia has not revealed any official information yet. The third one is the most interesting, as I have not read any story so far about a Windows-based Nokia laptop or ultrabook. If you have, please let me know in the comments.
Nokia's new lineup, if it is indeed real and not meant to mislead us, makes sense: a handset for the pocket, a tablet for working (or not) on the go and a laptop/ultrabook for use at home and at the office. It's definitely a lineup that I would want to see coming from Microsoft -- and, we might as it is buying Nokia's (smart)phone business. The only device that could be missing is a laptop/ultrabook, but that is not a market where I think Microsoft wants to be today.
What I find particularly interesting is the timing for unveiling this poster. The date of the Abu Dhabi event has circulated on the InterWebs prior to this blog post and, I can only presume, that the press invitations have already been sent out.
But, as some of you may know, there is another press event rumored to be held on October 22 and it is Apple's fall presentation. It does not take long to realize that anything that Nokia will unveil on the same day as Apple will get buried shortly after by tech blogs across the globe. And, for good reason. Apple has a higher market share than Nokia for tablets and laptops so it matters more for more people.
My best guess as to why Nokia is showing three new products is that the company knows how October 22 will unfold, and is likely trying to drum up some interest prior to the presentation. But, after seeing that poster I do not feel any mystery surrounding the major announcements at the event. I am still interested to know whether Nokia has something different or more in store for us. So stay tuned for our coverage of its Abu Dhabi press event.