Microsoft touches up Fresh Paint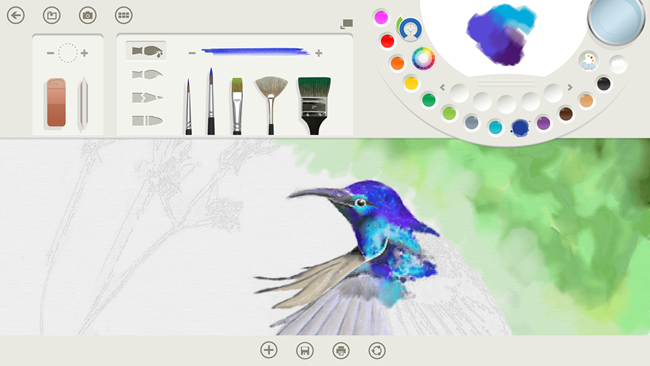 When Windows 8 advertisements first started airing on TV, Fresh Paint was often shown as a way to highlight the touch capabilities. Not only is the app a good demo, it is also fun and functional. From amateurs to professionals, anyone can easily use the app to create art and use their imaginations. However, Microsoft is not resting on its laurels and announces a new version is coming this month.
"Today I'm excited to announce that the new Fresh Paint will launch in tandem with Windows 8.1 on October 18 and that we'll also have new features coming to the Windows Phone version on October 14. Best of all, Fresh Paint will continue to be free, and everyone who updates to Windows 8.1 will get the improved experience", says Brandon LeBlanc of Microsoft.
He further explains the new features "like watercolor, a new graphite pencil set, and a new clean, modern user interface. We are also adding the ability to make high quality canvas prints, new ways to work with photos, improvements to stylus pressure, more realistic rendering for watercolor, in addition to a large refresh for Fresh Paint on Windows Phone".
While users were creating these beautiful pieces of art, there was no easy way to get them out of the computer and onto their living room wall -- until now. Microsoft announces that it has partnered with a company called CanvasPop, which will allow artists to transfer their masterpieces to a professional-grade canvas print.
"Fresh Paint is the first painting app to integrate CanvasPop's new printing API. We believe in pushing the boundaries of what is possible with art in the digital age. We're bringing that to life by helping you turn your digital paintings and drawings into amazing physical pieces that you can hang in your living room or give as gifts. This new functionality is a direct result of user feedback. And, we're making it easy", says Mr. Leblanc.
Other new features include:
Improved filters
Ability to import inspirational photos
Custom color palettes
SkyDrive importing
For availability, the Microsoft employee says, "if you have Windows 8, you'll automatically be updated to the new Fresh Paint when you upgrade to Windows 8.1. Your paintings will all be preserved, and you'll get all the new features I mentioned above. Windows Phone users can get all the improvements in Fresh Paint beginning October 14 -- just look for the app update".