Phrozen Windows File Monitor lets you watch file system activity in real time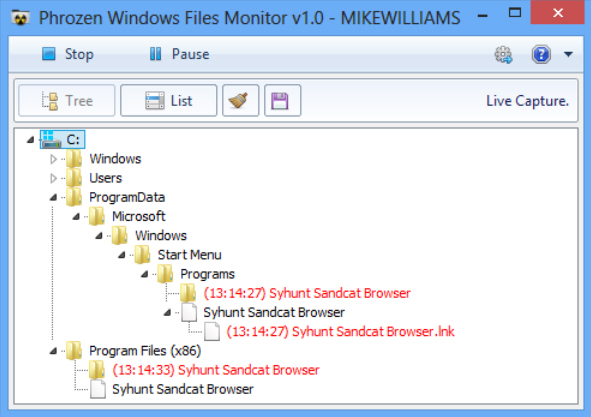 Phrozen Windows File Monitor is a free portable tool which makes it easy to track all kinds of file system activities on a PC. You can watch file and folders being created, changed, renamed or deleted, as well as some network activities, very useful whenever you want to understand exactly what a program is doing on your system.
Windows File Monitor arrives in a 1.55MB archive containing a single executable, so it's not exactly difficult to use: just unzip it, launch the program, and click Record when you want to start the monitoring process.
Any changes are displayed as they happen in an Explorer-like tree, so often you'll be able to understand what's happening at a glance. When we left Windows File Monitor to track itself, for instance, we saw a config.ini file created in the \Users\[User]\Downloads\PhrozenWindowsFileMon_V1 folder: it didn't require any great Windows expertise to figure out what was going on.
The only issue with the tree view is it displays folders in their expanded form, and so takes up a lot of space. If this is a problem, though, clicking List displays all file changes in a more conventional grid. This fits many more entries into the same space, and displays extra details: the source file or folder, the action -- Create, Update or Delete -- and the working folder.
One irritation we noticed immediately is that if you click Stop to end your monitoring, the list of changes is immediately cleared. And there's no way to get it back, so you'll have to start your monitoring from scratch (seriously annoying if, say, you're tracking a program installation). This doesn't seem like the best of default settings, but fortunately the program can be reconfigured to keep your data (click Settings, uncheck the Clear box).
Once your report is safe, you're able to review it in either the Tree or List form, while there's a separate option to save it as a text report.
Best of all, if the report is too lengthy then a capable Settings dialog can help you trim it down. You're able to choose which drives, folders or precise file events to monitor, so perhaps you might track only file renames in the C:\Users\Username folder, ideal when you want to zoom in on the details which really matter.
There are a few small issues here. We would like to be able to sort the List report, for example, clicking the Action column header so we could group similar actions together -- but this isn't supported. This isn't exactly a big deal, though, especially for version 1.0, and on balance Phrozen Windows File Monitor is already a very useful Windows troubleshooting tool. Go try it for yourself.