Facebook releases official app for Windows 8.1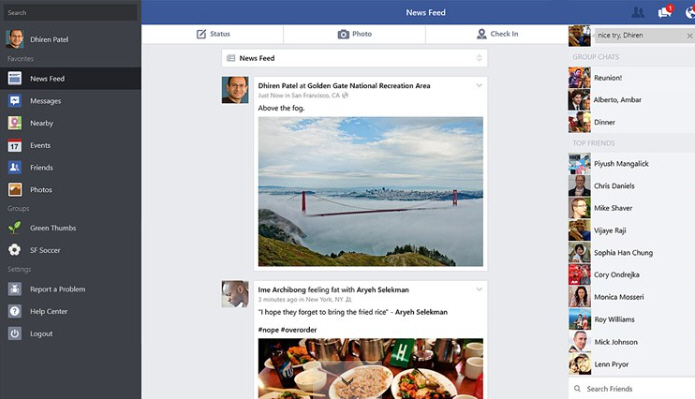 Facebook fans running Microsoft's tiled OS need no longer turn to third party solutions -- the official Facebook app is now available in the Windows Store.
It has been a very long time coming, but the social network finally has its own official app, arriving just in time for the release of Windows 8.1. The app has the look and feel of Modern UI apps and includes a live tile that is used to display updates.
The app itself is a fairly simple affair, with the interface divided into three sections. It will look familiar to anyone who has used mobile versions of the app before, with links to different sections of your account appearing in a sidebar to the left of the screen -- the same sidebar that slides out from the left in mobile versions. To the right, you'll find the chat sidebar while the central section is occupied by your newsfeed.
It is possible to have the app running in the background at all times so you can receive notifications of messages and events as you get on with other things.
Being a Modern UI Windows 8.1 app, there's support for Snap view so status updates can be seen as you work in desktop apps. There are no settings to choose from within the app. If you try to visit Account Settings or Privacy Settings you'll be taken out of the app and transported to the Facebook website.
You need to be running the RTM version of Windows 8.1 (or the full version when available) if you want to install the app. Grab yourself a copy of it from the Windows Store.