Canonical releases Ubuntu 13.10 Saucy Salamander for desktops and smartphones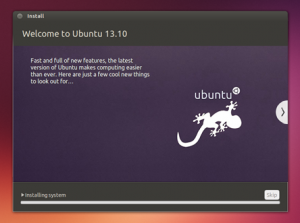 In the world of Linux, Ubuntu serves as a gateway for many. You see, the popular Linux distribution is very easy to install and use, so it makes an ideal first distro. While some users may choose to stick with the 12.04 Long Term Support version (which is supported until 2017), other users will prefer to have the latest and greatest.
Today, Canonical releases the freshest stable version of its operating system, Ubuntu 13.10 Saucy Salamander, which has 9 months of support. While this is big news on its own, the bigger news is that it is available for both desktops and smartphones at the same time.
"This is a milestone in computing history[...]the exact same Ubuntu OS runs on ARM phones and modern HP Moonshot ARM servers, and provides exactly the same capability as x86 platforms. Ubuntu 13.10 is a full server-grade OS that offers a mobile experience and is lean enough to support mobile devices, kicking off a new era in mobile security and computing convergence", said Rick Spencer, who leads Ubuntu's consumer-facing engineering.
Unfortunately, Ubuntu 13.10 is a rather ho-hum release. In other words, it is evolutionary rather than revolutionary. On the surface, users who upgrade will see little difference from 13.04.
The biggest feature is an update of smart scopes in Dash -- an advanced search tool. However, many users dislike the feature because it can potentially pass your information on to third parties, like Amazon. Not to mention, the search results from the third parties can clutter wanted results, leading to a lesser experience.
While the feature can be disabled, some users have called for it to be opt-in rather than opt-out. In 13.10, the third parties have been expanded to Wikipedia, Amazon, Google News, Flickr and more.
Interested users can download the ISO here. If you do install it, please tell me in the comments how you like it. BetaNews will provide a review soon, so stay tuned.