Internet Explorer and Red Bull go mountain biking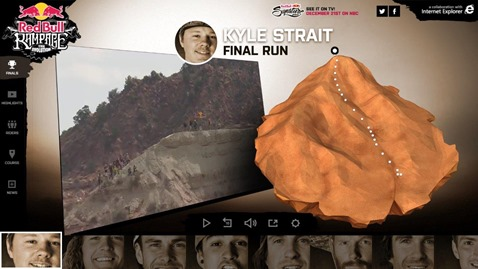 Few places scream mountain biking louder than Utah. With locations like Canyonlands National Park, the entire state has become a mecca for thrill seekers, and served as the backdrop for the real-life situation that became the movie 127 Hours. Red Bull, famous for its energy drink and its sponsorship of sports, uses the state to stage its Rampage mountain bike challenge.
The event, which took place October 11-13 in Virgin, Utah, was streamed live online and will be shown on NBC December 21st in the US. However, Red Bull is also partnering with Microsoft's Internet Explorer to bring it to you sooner.
"We are updating the Rampage site with a beautiful and immersive experience that delivers all of the top highlights from Red Bull Rampage. The site showcases a 3D map of the downhill course, rider bios, videos from the most epic runs, and a 'behind the scenes' video. The Red Bull Rampage site takes advantage of the latest web standards like HTML5 and WebGL, demonstrating the real-world possibilities for 3D graphics and providing a great example of what's possible in a modern browser like IE11", Microsoft's Adarsh Nair tells us.
The location of the annual challenge is rather remote, and few fans make the journey. But, the revamped website utilizes a 3D map, the GPS data and the video footage of each rider to take you there and make you part of the action. No need to dust the cobwebs off that Trek -- now you can ride Utah virtually.