Logitech announces the Mobile Speakerphone P710e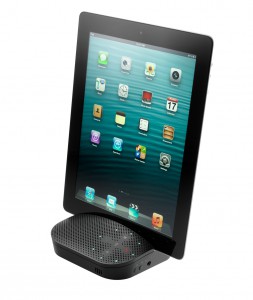 More and more business users are shunning a traditional desktop or laptop for tablets and smartphones. While tablets are great for consuming information, with the help of keyboard attachments, they are sufficient at creation too. However, tablets and smartphones are very personal devices; they are not optimized to handle a conference call for multiple users. Today, Logitech announces a product designed to solve this dilemma -- the Mobile Speakerphone P710e.
The company says, "with the Mobile Speakerphone, you can be more productive with hands-free access to your mobile device of choice and an integrated experience for video conferencing and conference calls. Whether you're hosting your noon conference call using your mobile device in a hotel room or joining a call from a conference room in your local office with your PC, the Logitech Mobile Speakerphone is the ideal travel companion for the mobile employee or small business owner".
Logitech further explains, "with up to 15 hours of battery life, the Logitech Mobile Speakerphone allows individuals or small groups to easily set up an instant conference room virtually anywhere -- in the office, at home or on the go, using their PC, Mac, tablet or smartphone".
The manufacturer seems to have put much thought into the design. It can serve as a stand for both tablets and smartphones, allowing the device to be positioned properly for video chat. This should enable an entire meeting room to be seen with proper placement. All video chat services should work through Bluetooth audio, but Logitech specifically mentions Skype, Cisco, Microsoft Lync and Facetime as being compatible.
This stand-mode will also position the tablet or smartphone like a computer monitor. You can then pair a Bluetooth mouse and keyboard and have the ultimate mobile workstation.
Pairing this speakerphone with a mobile device is extra-easy thanks to NFC support. By simply tapping an NFC-enabled mobile device against it, Bluetooth pairing will be established. Logitech even demonstrates a Windows Phone device pairing with NFC; it is nice to see Microsoft's OS being represented.
In addition to Bluetooth, the device can also be connected to a Windows or Mac machine by USB. This may also work in Linux, however, there is no guarantee from the company that it will.
Overall, this seems like a really useful product for business customers, but home consumers may be interested too. While the $169.99 price is a bit high, anything to get you ahead in your career is priceless. Having your employees crowd around an iPhone for a conference call is just tacky and unprofessional. Not to mention, nobody likes the guy on the call that sounds garbled with static -- don't be that guy.