Maxthon arrives on Windows Phone 8, but can it really challenge Internet Explorer?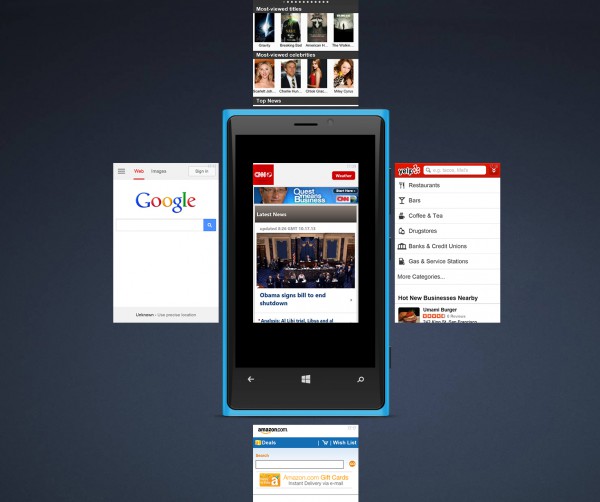 The name "Maxthon" likely evokes some memories for long-term Windows users. The browser, that was once known as MyIE 2, is among the oldest of its kind, having launched on Microsoft's OS more than a decade ago. It has never risen to the popularity of Chrome, Firefox or Internet Explorer, but it has been a perennial alternative ever since. To keep up with the changing computing landscape, the company behind Maxthon has also launched the browser on Android and iOS.
And, now, Maxthon arrives on Windows Phone 8 as well where, once again, its biggest rival is Microsoft's Internet Explorer, which the former has long struggled to surpass in market share. But, this time around, the balance can tip in Maxthon's favor as smartphone users are not as enamored with (or, better said, glued to) Internet Explorer as Windows PC users used to be. But there is one barrier to overcome: Maxthon has to clearly best Internet Explorer. And that may prove to be, once again, a difficult task.
The Third-Party Browser Landscape
Unlike Android and iOS, Windows Phone does not provide a rich selection of solid alternative browsers through Store. The users' first contact with the Internet is through Internet Explorer and, as far as I can tell, most people stick to it as neither Chrome nor Firefox, nor an offering that is much better, is available. The only alternative to Internet Explorer on Windows Phone, that is somewhat popular, is UC Browser.
Based on my experience, UC Browser is a decent alternative to Internet Explorer but it is not as stable nor as well-known as the latter to Windows Phone users. Maxthon is going to face the same issues, if it wants to outpace Internet Explorer.
The biggest disadvantage that any third-party Windows Phone browser has right now is that the tiled smartphone operating system does not allow users to set a new default browser. It's similar to the problem iOS users have been having since 2007 and, just like Apple, it looks like Microsoft cannot be persuaded to alter the design philosophy. After all, if Safari can keep its many rivals at bay as the default browser, why should Internet Explorer be any different?
What Maxthon Offers
Let's take a look at the features available in Maxthon's first official release for Windows Phone 8, and see how it stacks up against Internet Explorer in terms of design and features.
From the get-go, Maxthon brings cloud-sync functionality on Windows Phone 8. Users can take advantage of Maxthon Passport to sync favorites across all of their devices on which the browser is installed. Microsoft has yet to implement a similar feature in Internet Explorer, although this oversight has been pointed out numerous times.
Maxthon introduces an interesting method of navigating through the history. Users can swipe up or down across an opened web page, in the tabs menu, to navigate to the latest or previous site, respectively. According to the company behind the browser, this is a "patent-pending" feature and exclusive to Maxthon on Windows Phone.
By comparison, Internet Explorer allows users to navigate through the history only by using the back capacitive key and the recent menu. Tabs are handled slightly differently, either through a dedicated button or through a menu option, even though it too has a close button on each opened tab in the adjacent menu.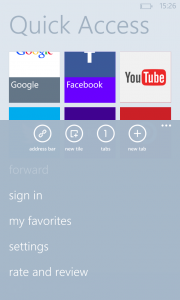 Maxthon touts "favorites optimized for mobile touch screens". In reality, however, the items are no more easier to access than in Internet Explorer. The only major difference between the two browsers is that the former allows users to group favorites into folders. Whether that is a better approach, it is up to each user to decide -- those who have a small number of favorites may like Internet Explorer's way best while those who want more control may like Maxthon's way best.
A very nice feature that Maxthon offers, and Windows Phone does not, is Quick Access. It is basically a collection of links, disguised as colored live tiles, to a number of popular sites. Users can add their own, and customize them by using whichever color they want (from the available ones, of course).
As you can probably tell judging by the screenshot posted here, Maxthon looks quite similar to Internet Explorer, except for one major visual difference --  the former does not take into account the chosen Windows Phone background and instead uses nuances of gray. It is by no means a bad-looking app.
Unpolished Browser
But, and there is a but, Maxthon is not quite as polished as Internet Explorer is. Navigating through the history, in the tab menu, feels clumsy, as the app does not work smoothly when transitioning from horizontal to vertical swipes, nor is it smooth enough when swiping vertically across opened tabs either. I also experienced a crash the first time I have opened Maxthon, which does not feel particularly reassuring when pondering the idea of using the browser as a daily driver.
There is also a slight delay between pressing the tabs button and Maxthon actually showing the opened tabs. The transition is decently smooth, but it is slow which is weird because when pressing any of the three remaining buttons Maxthon delivers near-instant results.
Should You Use It?
The real question here is whether you use Maxthon on any other devices. If the answer is "yes", then by all means use it on your Windows Phone too. But, otherwise, you may want to stick to the tried-and-true Internet Explorer. It is smoother, more polished and more stable.
Maxthon is available to download from Windows Phone Store.