Live Blog: Apple Special Event -- iPad 5, iPad Mini and more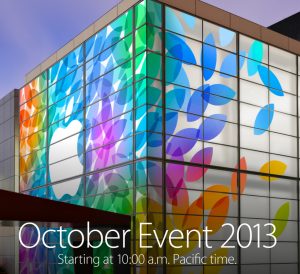 It's only a matter of weeks since the last big Apple event at which the iPhone 5s and iPhone 5c were announced. Today we have another event to look forward to and while we're not absolutely certain of what's going to be unveiled, the clever money is on the iPad 5, a new iPad mini, new Mac and release details for Mavericks.
Who knows… maybe there'll even be "one more thing"!
We'll be live blogging the announcements as they come. Things kick off at 1PM EDT/10AM PDT, and we'll be here until the end.
All updates will be in reverse chronological order (all times are EDT). The latest ones are first and first ones are last. You will need to hit the refresh button in order to see the newest updates.
2:22PM -- "We couldn't be prouder to present all of them to you in time for the holidays" -- I bet!
2:18PM -- Same colors as the iPad Air. Starts at $399 for 16GB model. Original iPad Mini still available for $299. Lots of covers to choose from. Why don't we see an ad for it, eh?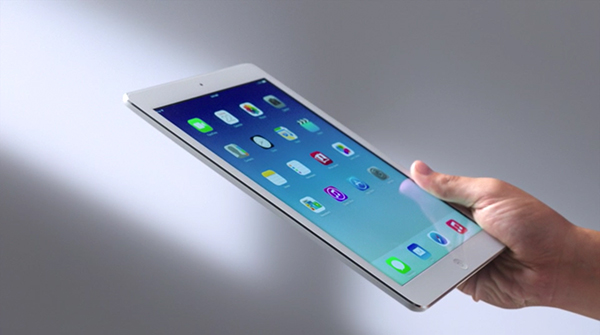 2:16PM -- Jonny Ive video out of the way... time to talk iPad Mini. As expected Retina display on the 7.9 inch screen. 2048 x 1556 pixels -- same as the iPad Air. Same processor too.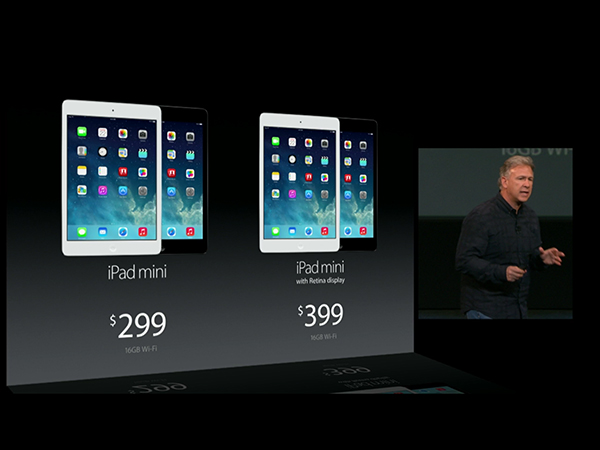 2:10PM -- Break out the stats. 7.5mm thick (thin)GPU 72x faster than predecessor. "Screaming fast". 10 hour battery life, 5MP iSight camera, new FaceTime HD camera, dual microphones, Siri. Silver and white / space gray and black. Starts at $499 16GB wifi, add cellular $629 - ships November 1. iPad 2 $399.
2:07PM -- Schiller breaks the news. iPad Air -- super thin, narrower bezel. Weighs in at a mere 1 pound. Same A7 processor as the iPhone 5s.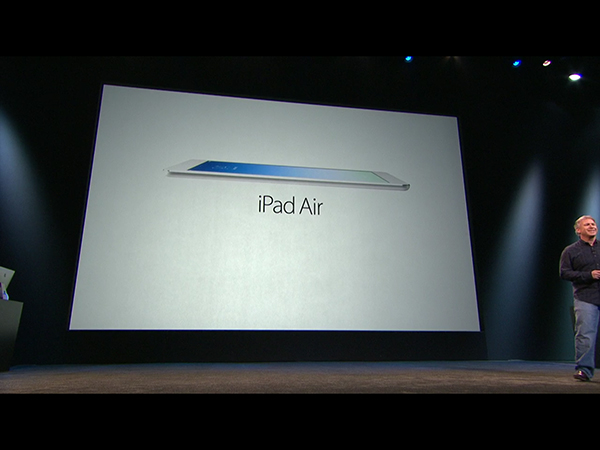 2:04PM -- Cook praises the creativity of iPad users. Hooray for tablet-fiends. Let's have a video to celebrate our awesomeness!
2:01PM -- iPad has a 81% share of the tablet market.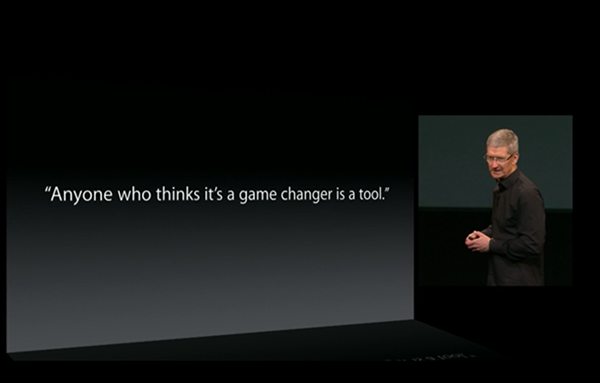 2:00PM -- One hour in and we're onto iPad. 170 million of them have been sold!
1:57PM -- Apple sticks two fingers up to Microsoft. iWorks and iLife are free and available today. "Biggest day ever for apps".
1:54PM -- iWorks demo. Even with the best will in the world,  the demo projects look awful! We'll let them off as they're working live. Document collaboration is shown off -- again it's cringe-worthy stuff, but shows the potential for simultaneous working on files.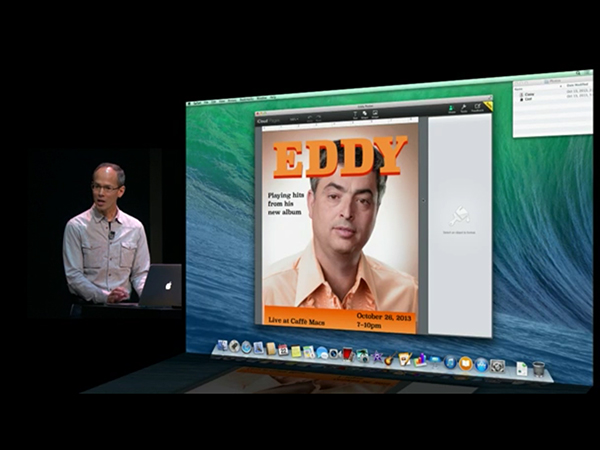 1:52PM -- Interactive charts is the only change that's mentioned. Keynote gains new transitions and effects.
1:50PM -- iWorks rewritten from the ground up for Mac. New UI in Pages makes formatting easier on iPad.
1:45PM -- GarageBand gets additional tracks and a new look -- up to 32 tracks on iPad. Everything syncs through iCloud. Cringe-worthy music demo time. But the app's free so that's great new -- available from today.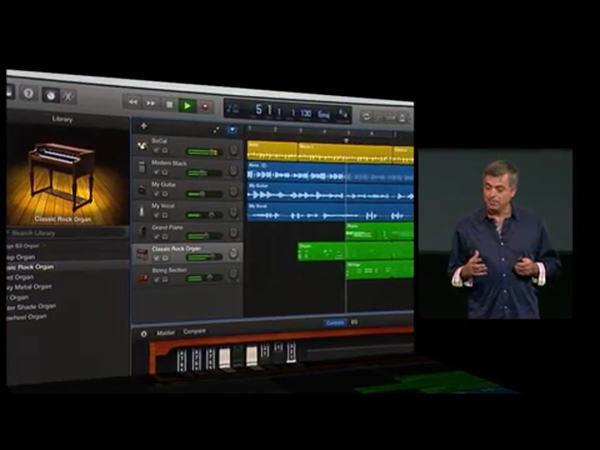 1:42PM -- App time. Eddy Cue shows off iPhoto. Photobooks come to iPad so you can design and order a printed photobook from your Apple tablet.
1:37PM --Rundown of endorsements for Mac Pro from industry professionals. Price is $2999 -- available by year end. May not be as quiet as a mouse, but it is as quiet as a MacBook Mini at 12dB.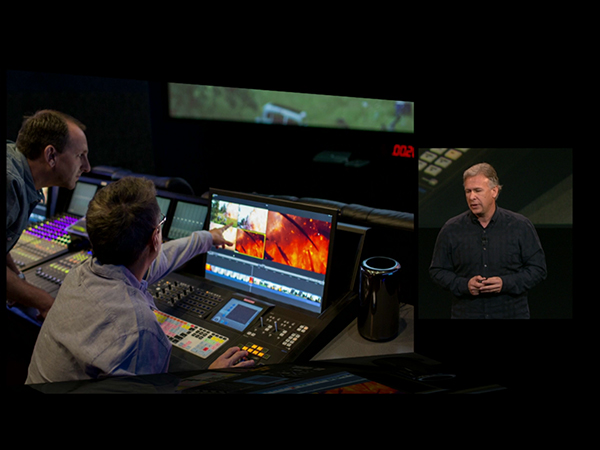 1:33PM -- Now the trashcan-like Mac Pro. Fastest mac processor ever. Fastest memory - 1866MHz DDR3. Dual workstation graphics. Up to 12GB VRAM. Flash-based storage which is ten times faster than any hard drive. Thunderbolt 2 aids expandability.
1:30PM --15 inch model. Crystalwell quad-core process, but down to 8 hours battery life. $1,999 -- 2GHz, 8GB, 256 GB SSD. Available now.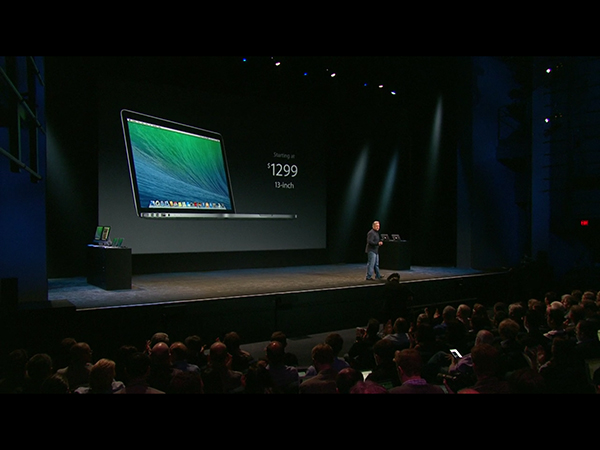 1:27pm  -- MacBook Pro updates. 13inch MacBook Pro now weighs just 3.46lb and is 0.71 inches thick. Iris graphics, Intel Taswell and up to 9 hours of battery life. Starts at $1299 -- 2.4 GHz, 4GB 128GB SSD.
1:25PM -- Download now! It's free! Works with Mac back to 2007, can even upgrade from Snow Leopard.
1:24PM -- Mavericks is FREE!
1:23PM -- Quick demo of maps and demo is done.
1: 21PM -- Changes to Safari - top sites reader view, accelerated scrolling.
1:19PM -- Oh the hilarity! Notification from wife about untucked shirt. Reply from the notification. Nice.
1:18PM -- Interactive books including videos in iBooks. Demo of tags -- just in case you couldn't work out how to use them.
1:16PM -- Tags in Finder. Better notification system. New apps -- maps with multi-touch, turn-by-turn directions. Demo time!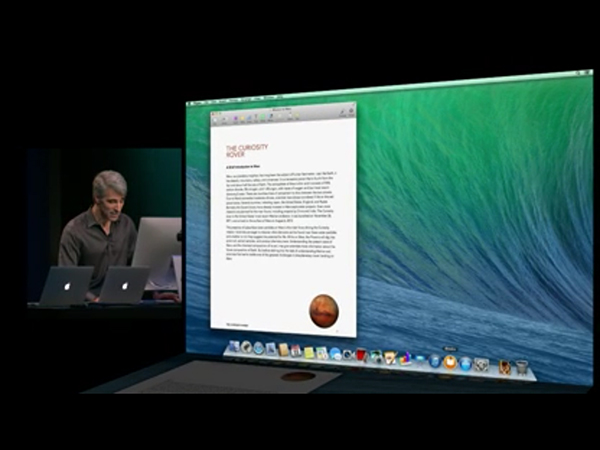 1:12PM -- Mavericks; Craig Federighi waxes lyrical. Highlights improved battery life and memory usages.
1:11PM --Cook describes competition as confused. Swipe at Microsoft for making tablets into PCs and PCs into tablets. Apple, however has direction and has products to show off.
1:10 PM -- More facts and figures. Over a million apps in the App  Store with more than 60 billion downloads.
1:08PM -- iOS 7 is the biggest software launch ever. 64% of iOS devices are running the latest version.
1:06PM -- more indulgence as video of the iPhone launch day is shown.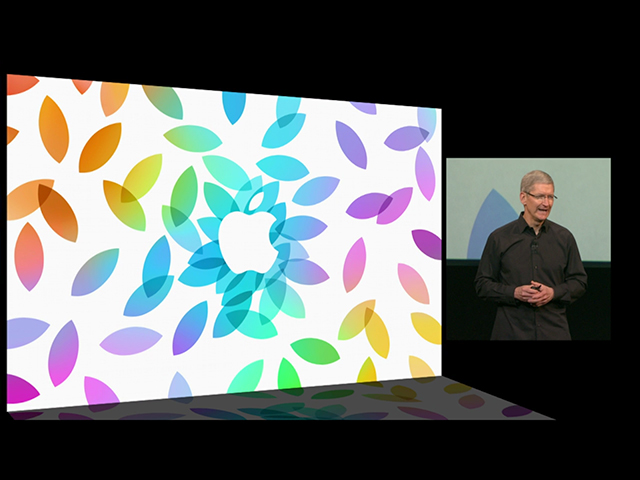 1:04 PM --  Tim Cook is excited. Apparently. Quick recap of what's happened over the last few weeks with the iPhone range. Biggest iPhone launch ever. Back-slapping all round.
1:02 PM -- Lovely twinkly piano. Tron-esque dots and lines make up a monochromatic intro.
1:00 PM -- "If everyone is busy making everything how can anyone perfect anything?"
12:58 PM -- As per Apple's request, our phones are now set to silent mode as we await the fun that's to come.
12:10 PM -- We don't have much to go on yet. Invites for the event are swathed in pastel colors. The tag line is "We still have a lot to cover". Are we looking at a range of iPads in different colors, or could the rumored Surface-style cover be one of the things that's under wraps? Less than an hour until we find out!