Twitter makes photos and videos more prominent -- ads to follow?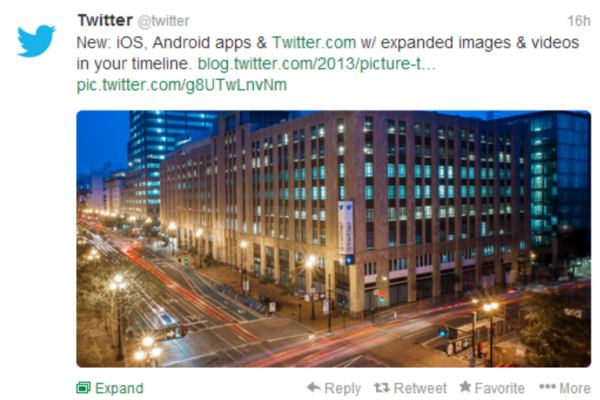 Very little fanfare is being made about it, but Twitter is changing the way photos and videos are displayed in timelines. When someone you follow tweets a picture or video, there's no longer any need to click a link to see what the tweet is referring to -- previews are displayed right there in the timeline. To see a larger version, you'll still need to click or tap through, but at least you'll be able to get an idea of whether it is worth doing so ahead of time.
In a blog post entitled "Picture this: More visual Tweets", the new feature is explained, and a Vine video shows it in action. The video also shows how mobile users benefit from the addition of easily accessible replay, favorite and retweet options.
The switch to image previews is helpful in some regards, but it is also likely that this is a sign of something else -- more prominent timeline ads. Adverts are far more likely to be seen if users do not have to click through to view them, after all. Users of the official Twitter mobile apps, as well as Tweetdeck, have the option of disabling the image preview feature, but this is not possible for anyone using the website.
The new features are rolling out to the web version of Twitter right now, but mobile users will need to download updated versions of the Twitter app from Google Play for Android and the App Store for iOS.