WhoCrashed adds Windows 8.1 support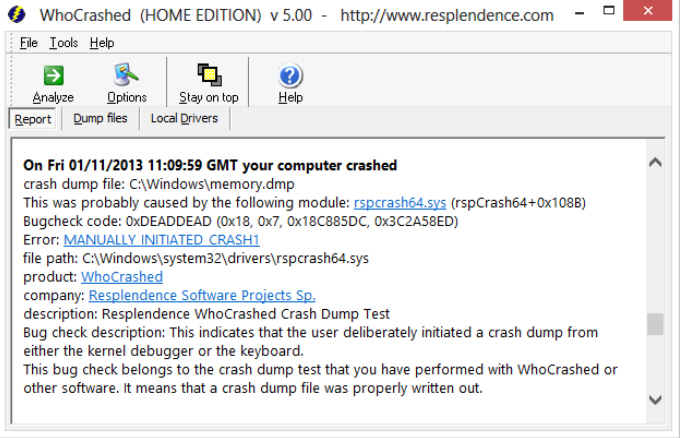 Resplendence Software's PC crash analysis tool WhoCrashed has been updated to version 5.0.
The big news in this release is that the program now runs properly on Windows 8.1. If your new system has a blue-screen crash, run the program, click Analyze and it'll try to identify the cause for you. The crash report includes new hardware information, including system manufacturer and motherboard name.
WhoCrashed Pro 5.0 allows you to prevent Windows from ever deleting memory dump files (Tools > Options, check "Stop Windows from deleting memory dump files"). This only happens when drive space is running short, of course, so keeping the files might increase the likelihood of crashes in the first place, but it may sometimes be a useful option.
WhoCrashed Pro has always been able to connect to a remote system for analysis, but previously it was assumed that you had admin privileges on that machine. WhoCrashed Pro 5.0 allows you to log in with whatever credentials you like, so if you don't have the access rights you need, you can just use the account of someone who does.
WhoCrashed 5.0 also includes the usual scattering of bug fixes and minor enhancements, and the new edition is available for download now.