jAlbum now faster and more responsive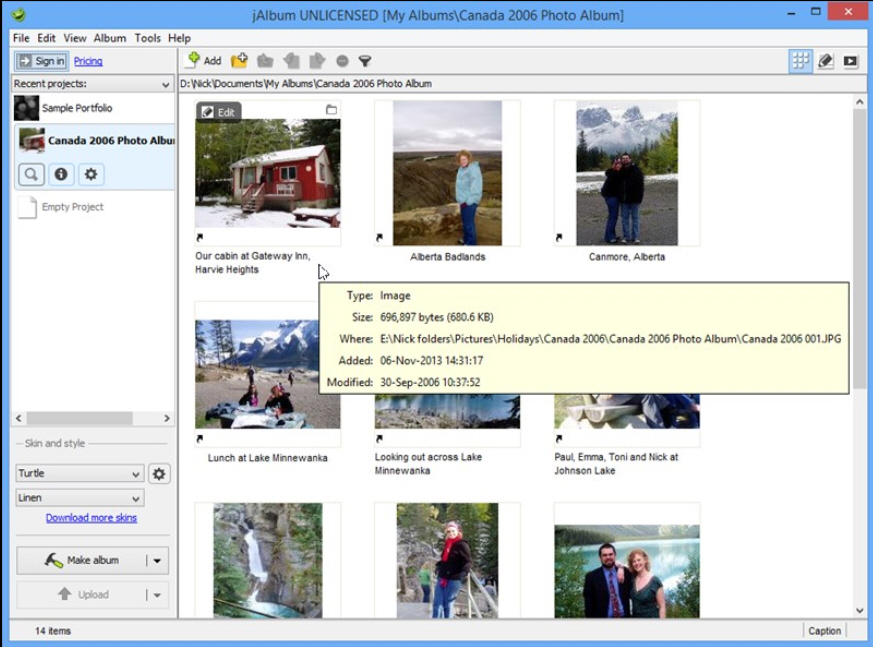 jAlbum AB has released jAlbum 11.6, a performance-oriented update of its cross-platform web album builder that's free for personal use. In addition to improving performance, version 11.6 adds a few minor changes and includes a number of notable bug fixes.
The main highlight of version 11.6 comes with vastly improved performance when editing videos, both when selecting a representing thumbnail and starting or stopping editing. Also notable is an improvement to the user interface, which is now more responsive when managing images that lack cached thumbnails.
Performance increases should also be felt on machines with slower hard drives -- including network storage -- thanks to jAlbum making fewer file IO calls. This is accompanied by the promise of a massive 600 percent performance gain when using SAMBA mounted network drives.
Similarly, the program is now more conservative with memory usage when scaling huge images to more than 10,000 pixels wide, while there's also improved wait cursor handling for long operations and fewer disconnects via the ftp4j connection.
Functional improvements include jAlbum now keeping track of when objects are added to albums, adding a "when added" sort option to album objects. Users can now also view specific information about album objects simply by hovering the mouse over that object.
Version 11.6 also adds support for the MPO file format, updates the Turtle and Minimal skins and adds a pricing link next to the sign-in button for unlicensed users. There are also a few API updates for developers.
Bug fixes include making sure the user interface thumbnails are refreshed when users rotate or apply image tools to images. A painting error in the Edit panel has been resolved, and non-image album objects can no longer be selected to represent a folder or album.
jAlbum 11.6 is a free-for-personal-use download for Windows, Mac and Linux. Published web albums are ad-supported -- users can purchase a license or jAlbum hosting account to remove these. Prices start from $39 for a Standard, non-commercial license.