UniPDF converts PDFs to Word, HTML, images and text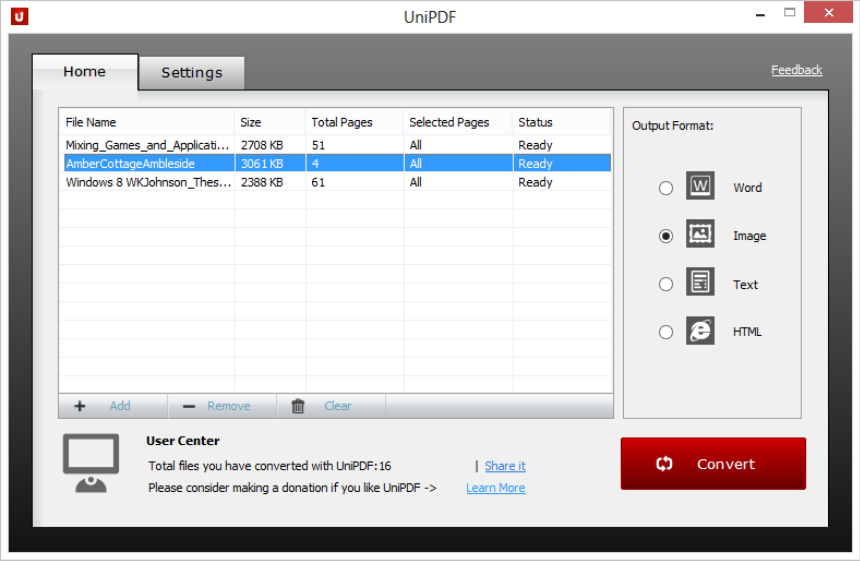 PDF is a great format for sharing content, not least because it's viewable just about everywhere. It's not quite so convenient if you need to reuse that content elsewhere, of course, but there could be an easy solution: just use UniPDF to convert your source documents to Word (DOC, RTF), images (BMP, JPG, PCX, PNG, TGA, TIF), HTML or plain text.
The program is easy to use. Drag and drop your PDF files onto the program, choose an Output format, click "Convert", and watch as UniPDF goes to work.
A "Status" indicator shows you how the conversion process is going, and once it's all over the program can open your new documents, or just their host folders.
If you need more control then a Settings tab allows you to set the file Save path, default Word and image format, as well as your preferred image resolution (choices are limited to 72 or 96dpi) and color depth (1, 8 or 24 bits).
Does it work? Well, as usual with this kind of tool, there are some problems. Complex formatting isn't always faithfully reproduced in the converted document. We noticed some color mismatches in our test files. And there were lines across the images in one document, making it effectively unusable.
But, the majority of conversions went very well. Some conversion types were particularly effective (PDF > Image), and on balance UniPDF offers more than enough power to justify the installation. Just look out for the toolbars during installation; we were offered five, but you can bypass them all if you keep clicking "Decline".
Photo Credit: cybrain/Shutterstock