System Tiles offers quick access to Windows Phone 8 settings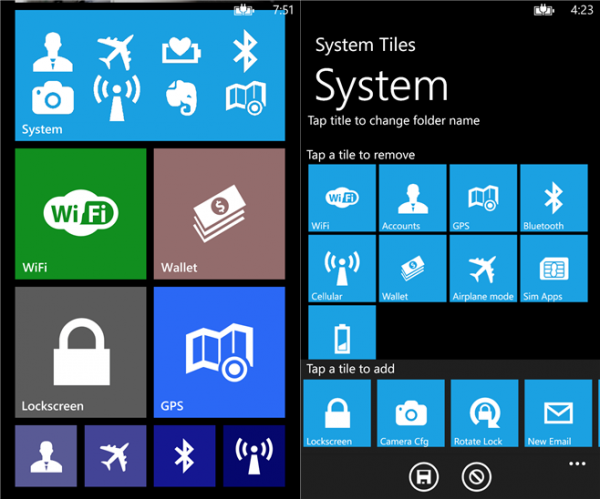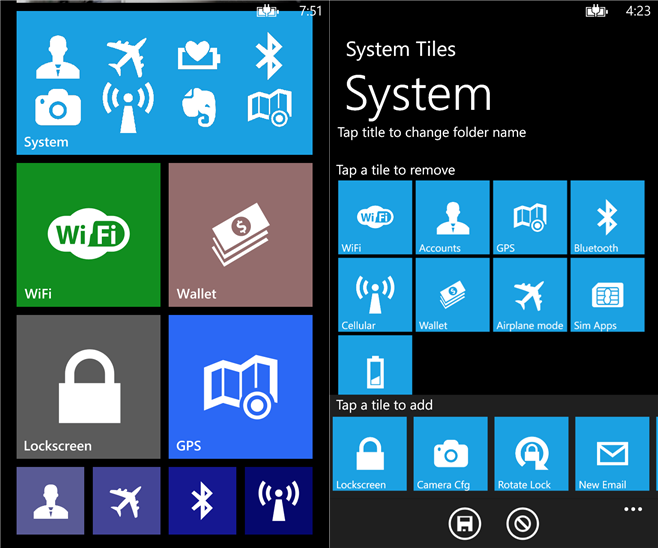 One of the largest usability gaps in Windows Phone 8 stems from the lack of a quick and easy way to toggle system settings, similar to what Android's quick settings or iOS's Control Center offer. The feature allows users to turn Wi-Fi, mobile data, GPS and others on and off in as little steps as possible, without having to navigate through the Settings menu every single time to alter their state.
Luckily there are apps in Windows Phone's Store that fill this void, with System Tiles being one of the most appealing and customizable offerings available today. The app is easy to use and quite powerful, allowing folks to create intuitive live tiles that can gather a significant number of shortcuts to apps and settings, all in one place.
You may argue that live tiles are already intuitive. And you would be correct. But, when a live tile collects such items under the same umbrella it is very difficult to figure out what may or may not be included before opening it.
System Tiles makes the best out of this situation by showing a maximum of eight pictograms in the live tiles that users create; that's for the largest live tile size, with the medium and small ones showing a maximum of four pictograms.
As a result, users know exactly which settings they can control just by looking at the live tile. This approach fits well with the information-at-a-glance philosophy behind Windows Phone.
Live tiles can also be created for individual settings, like Wi-Fi, GPS, lockscreen rotation, Bluetooth, airplane mode, cellular options, user accounts, battery saver and so on. The list of supported feature controls is extensive, covering a large part of the Settings menu (and more).
A number of apps are also supported (those can be pinned individually as well as in a collection), with the list limited to Evernote, Facebook, Twitter, Vimeo, WhatsApp, Yelp and YouTube at the moment. An interesting addition is the option to turn the smartphone's LED on and off, via the Flashlight toggle.
System Tiles is certainly not a replacement for a native implementation, nor as polished as one would be. But, it is certainly an interesting app that can help deliver a smoother transition from Android or iOS, and help Windows Phone users get more out of their smartphones.
System Tiles is available to download from Windows Phone Store. The app works as a limited trial, with the full version costing $0.99.