Changing the role of technology in child development with cloudBoard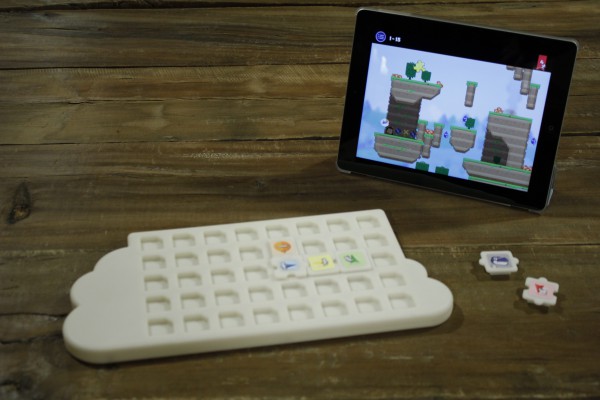 Pittsburgh-based start-up Digital Dream Labs has launched a Kickstarter campaign to improve childhood interactions with technology and promote the development of logic and problem solving skills.
"10 years ago, parents were worried their teenagers were getting too consumed by video games", says co-founder Matt Stewart. "Now you have toddlers playing on touch screens before they know how to walk. Technology is doing amazing things to change the world, but that doesn't mean we should give up the fundamental experiences that dictate our children's growth and help them interact with the things around them".
The project uses a cloudBoard, an interactive puzzle that links up to tablets and computers and works with a video game. Digital Dream Labs' first game is Cork the Volcano where children use the puzzle pieces to help on-screen animals save their island from an erupting volcano.
"The first thing the kids have to work through", says co-founder Peter Kinney, "is the link between the puzzle pieces and the screen. That may seem straightforward to an adult, but if you look at the way children develop, it requires a level of abstraction that can take some children a while to acquire".
Once the basics are mastered children will find that depending on which piece they use and where they place it they'll get a different reaction on screen. Kinney says, "...without even realizing it, the children are honing this really profound understanding of causal relationships -- not only can they use the board and the puzzle pieces to affect the screen, but they can control the character and the game based on what they do specifically."
The overall aim of the game, and the educational principle behind it, is to reach a point where children begin to grasp that, by ordering the pieces correctly, they can complete bigger, more complicated missions. This will take children varying amounts of time, and the game has different levels of difficulty to account for that. By playing the game and helping the animals get through the various mazes users are subtly introduced to complicated problem solving and trial-and-error situations. "That's the basis for all scientific thought, the logic behind computer programming", says Kinney.
Digital Dream Labs was started by a team of graduates from Carnegie Mellon's prestigious Masters in Entertainment Technology program. The cloudBoard gaming system has been tested at the Children's Museum of Pittsburgh by over 200 children ages 4-12. The company is aiming to raise $90,000 through Kickstarter to tool the system up for production.