MetroMail -- a really good Gmail client for Windows Phone 8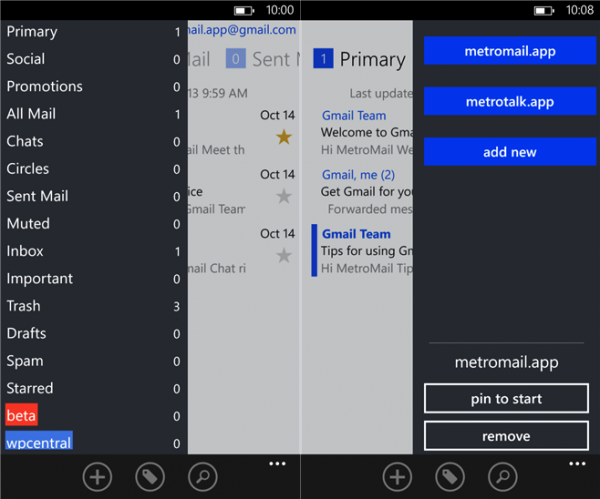 Google is renowned for its lack of Windows Phone 8 support. The search giant currently has a single app in Store -- which, surprisingly, just received a nice update, its first big one since March 2012 -- with no plans on the horizon to bring popular apps like Drive, Gmail, Google+, Maps or YouTube to the tiled smartphone operating system.
Being a user myself, I can see why some folks would give up on waiting for the real deal and start to embrace a third-party app or switch to a rival service instead. Fortunately, developers have released competent clients for Google services, like MetroMail that provides a solid Gmail experience in the absence of an official Windows Phone 8 app.
MetroMail is the work of apoelin, the Windows Phone developer behind the popular third-party Google Voice client MetroTalk. The developer says MetroMail delivers "a first-class Gmail experience", so let's take a look at what the app offers in its first iteration.
The MetroMail design falls in line with that of typical Windows Phone 8 apps, which makes the app intuitive and the feature discovery easy. It makes good use of side swipes, which reveal additional Gmail labels (Sent Mail, All Mail, etc.). The navigation is a tad sluggish -- this is noticeable while swiping and performing some actions like opening and getting out of emails -- but decently fast overall.
MetroMail was released with multi-account support straight off the bat, allowing users to add and handle multiple Gmail and Google Apps accounts. Switching between the accounts can be done via the corresponding option in the app's menu or by selecting a different account after tapping on the user's handle shown at the top of the inbox.
It is worth mentioning that MetroMail also supports two-factor authentication, so you can wave good-bye to creating and typing in those frustrating application-specific passwords.
The app implements typical Gmail features, like archiving and labels which are not available in Windows Phone 8 out-of-the-box. The two options alone give MetroMail an edge over the built-in email client, for those who prefer Gmail. Similarly, the app also comes with inbox tab support (which is also not available in the Windows Phone 8 email client).
Conversations are easy to track, as MetroMail shows all the sent and received emails between you and another party (friend, company, etc.) that are part of a thread. To keep things simple, the quotes within emails are not rendered by default.
Like the built-in Windows Phone 8 email client when paired with an Exchange ActiveSync connection, MetroMail allows users to perform server-side searches. This means that when looking up a specific term the app will show emails both on the device as well as on the server. This feature is not available to those who wish to set up a Gmail account using the default profile (which uses IMAP and CalDAV + CardDAV) from Windows Phone 8 GDR2 onwards. Sadly, there's no escaping the built-in Gmail profiles for those who wish to sync calendar entries and contacts.
Notifications are shown through toasts, which pop up at the top of the Windows Phone 8 screen, and live tile counts. The latter can be configured to show a combined unread count from multiple accounts; this is designed for a usage scenario involving a single pinned MetroMail live tile. The implementation is good as notifications can be configured on a per-account basis, however the live tile does not show any preview for unread emails and emails may not show up (immediately or at all) in the inbox following the live tile count update.
MetroMail also trumps the built-in Windows Phone 8 email client by actually syncing the changes almost instantly with the server. The latter does not, often resulting in unread emails on the server even though they were read on the smartphone (it's a known yet unresolved issue).
The app could definitely use some polishing and performance improvements but it does provide a really good experience for Gmail users on Windows Phone 8. It's certainly better overall than what the tiled smartphone operating system offers out-of-the-box.
MetroMail is available to purchase from Windows Phone Store. The cost is $0.99.