Logitech gamepad puts iPhone gamers in control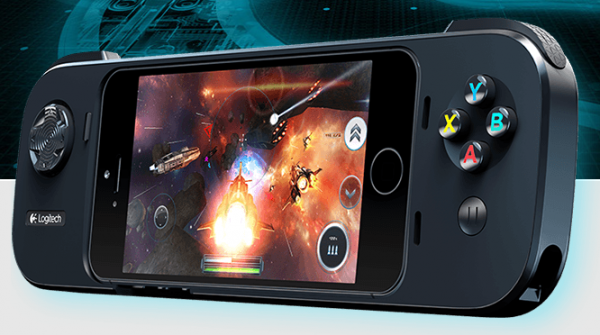 Smartphones have positively impacted the gaming industry. Casual touch-based games like Angry Birds and Candy Crush Saga have turned some non-gamers into dedicated ones. However, hardcore gamers interested in more complicated things are forced to use on-screen virtual controls (d-pad, buttons, etc.). Unfortunately, for many, this virtual solution is unacceptable. Since you cannot feel the controls, it is easy for your fingers to wander and cause unintended consequences. Sure, there have been third-party controller options, but they have mostly been unpolished and largely ignored by developers.
With the unveiling of iOS 7, Apple introduced support for game-pads. Today, Logitech announces its first such offering for iPhone and iPod touch devices, with the PowerShell Controller + Battery. The company says it "turns your compatible iOS7 device into a pocket sized mobile console, all while roughly doubling your play time with its on board battery".
The company further explains, "to use this first-of-its-kind mobile gaming console, simply insert your compatible iPhone or iPod touch into the controller as you would with a standard case. The analog off-screen controls of the Logitech PowerShell Controller + Battery deliver a gaming experience that's familiar to console players everywhere, with a D-pad, shoulder triggers and face buttons that allow you to control game play".
In other words, this accessory turns an iPhone 5s, iPhone 5, or iPod touch (5th generation) into a true portable gaming console like the PS Vita or Nintendo DS -- the iPad is not supported due to size difference. However, rather than sucking juice from your device, Logitech has embedded a battery (1,500mAh) in the device to improve on usage time.
Sadly, not all iOS games support the accessory but Logitech has compiled a list of games which currently do. Ultimately, it will be up to game developers to bake-in support for controllers in their games.
If you are interested in buying the accessory, you can pre-order it here. It will ship in December for a rather pricey $99.00.