CRM on the move for small businesses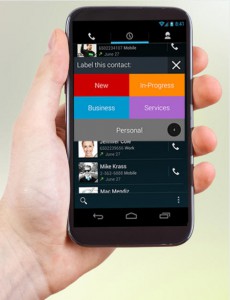 For most people customer relationship management conjures up the idea of a massive database of sales information. But for smaller, especially one person, businesses who may spend only a small amount of their time in front of a computer, traditional CRM isn't a practical proposition and doesn't lend itself to mobile use.
Step forward ONDiGO which is designed to provide CRM on the go -- see what they did there? It's built to be easy to use and to start working immediately so that you can begin improving business contacts with customers from day one.
Features of ONDiGO include color coding so that you can differentiate personal and business contacts, new and existing customers and so on. It allows you to review your history of calls and messages with a contact, set tasks, schedule meetings and make notes. You can also prioritize interactions and at the end of each day you can review a real-time report of your activity.
The app syncs automatically with your phone contacts and your Google calendar and it stores all of its notes and other information in the cloud so that they're secure and still accessible if you switch devices.
ONDiGO is currently available free on the Play Store for use on Android devices. You can learn more about the product and view videos of it in action on the company's website. You can also register your interest in the iOS and Windows Phone versions which are in the pipeline.