Motorola Moto G available to buy now in US for just $179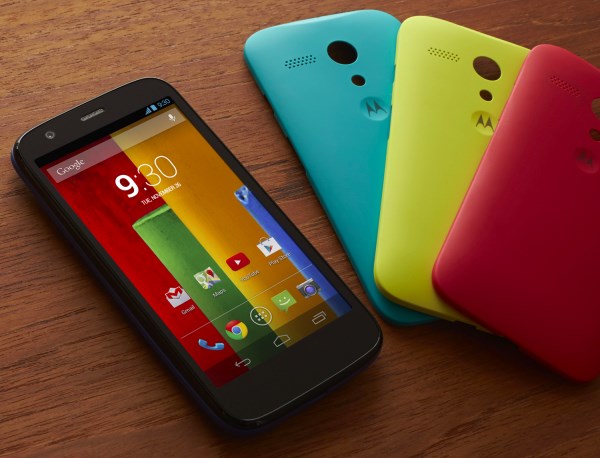 Motorola's answer to Apple's iPhone 5c and Google's Nexus 5, the Moto G, is available to order now, starting at $179. Despite coming in at just "one third of the price of current high-end phones", this is an entry-level smartphone that still manages to pack a punch. There's a 4.5-inch display and a quad-core Qualcomm Snapdragon 400 processor, and Motorola is claiming all-day battery life. It is the GSM version that is available now, and in January it will be possible to buy the CDMA model in the US as well.
It has already been launched in a number of territories including Brazil, Mexico, Chile, Argentina, Peru and parts of Europe, but now the US is getting some Motorola loving too. Buy direct from Motorola and the handset is free from contract, has no SIM lock, and has an unlockable bootloader -- a tweaker's dream! At 1280 by 720 HD, 329 ppi, the Moto G's screen is above and beyond what you might expect to find on a handset around this price.
The phone is comparable to the iPhone 5c and goes as far as adopting similar multi-colored casing options. There are Shells, Flip Shells and Grip Shells which can be snapped into place to stamp your rainbow-esque mark on the phone. The $179 price is for the 8GB version, but there is also a 16GB model available for $199. The storage is bolstered for two years by 50GB of space on Google Drive.
The Moto G initially ships with Android 4.3 -- which Motorola describes as "the most up to date Android of any phone in its class" -- and there is a guaranteed upgrade to 4.4 KitKat in early 2014. And this is pure, unadulterated Android, "no skins to clutter or slow the experience and great performance" as Motorola puts it.
Place your order now and handsets will ship from 2 December. While you wait to get your hands on a G, check out the ad that showcases some of the highlights.