Dell announces UltraSharp 4K displays -- 1080p is now obsolete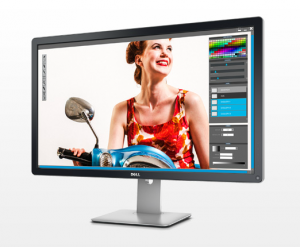 My first computer came with a 13-inch CRT monitor. It was enormous, heavy, and flickered -- probably the reason I wear glasses today. When flat-screen LCD monitors started becoming affordable, I bought one post haste. However, It was only this year that I achieved a 1080p display; the awesome 27-inch AOC e2752She. While I thought I was on the cutting-edge of technology, apparently, I am not.
Today, Dell announces the availability of two new 4K monitors. If you aren't familiar with 4K, it is considered Ultra HD or 3840 x 2160 resolution. In other words, it has four times the pixels as a 1080p display. Yeah, it's that good.
"Dell Ultra HD Monitors deliver stunning screen clarity and detail with four times the resolution of Full HD. From sophisticated power users such as video editors, CGI animators and game developers, through consumers seeking incredible onscreen clarity for entertainment applications, Dell has an Ultra HD monitor to meet the visual demands of even the most detail-oriented people", says the company.
Dell further explains that the monitors "deliver accurate, precise color at virtually full spectrum coverage, and include support of major color industry standards including 99 percent AdobeRGB -- the highest level in the industry, and the ability to precisely calibrate to the palettes users need for custom color work".
If you are starting to get excited, please know that you must have extremely deep pockets to achieve such ocular nirvana. The 32-inch variant is $3,500 and available now, while the 24-inch is $1,399 and will be available globally on December 16. These both cost more than my first car. However, if you want to be the ultimate nerd on your block, you have to pay to play.
Of course, your hardware must be up to snuff to even power such an extravagant resolution. Many computers, even modern ones, will not likely do 4K. To find out if your specs are compatible, you should contact your computer or graphics card manufacturer.
If both of these monitors are out of your price-range, don't worry, Dell will be releasing a 28-inch model in 2014 for under $1,000 -- better save your Christmas money from Nana and Pop-Pop.