AOC e2752She 27-inch monitor -- a Black Friday bargain [Review]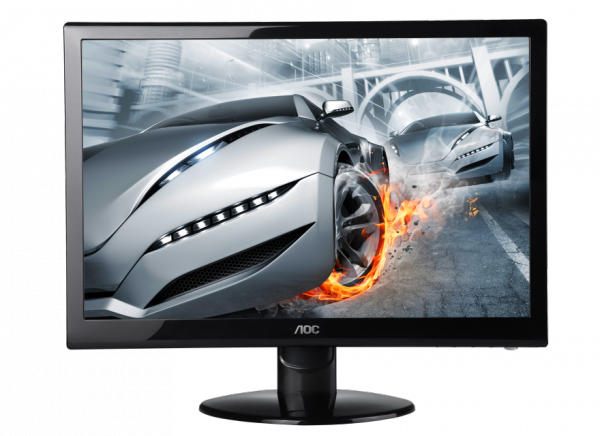 During the month of November, the advertisements for Black Friday sales start coming fast and furious. It is easy to miss the truly good deals among the noise. However, one such sale caught my eye -- a 27-inch LED LCD monitor by AOC for $179. When I worked at CompUSA, I sold many AOC monitors and really liked them. Not only were they inexpensive, but they proved to be reliable.
According to the monitor manufacturer, "the limited time promotion on the e2752she is available Nov. 28 to Dec. 2 at Office Depot, OfficeMax, Best Buy, Newegg, Staples and Amazon, among other retailers". In anticipation of the sale, I obtained this model to see if it is worth your money on Black Friday.
When taking it out of the box, I was surprised by just how large a 27-inch monitor is. Quite frankly, it is monstrous, and that is a good thing. After all, I spend a lot of time at my computer, so my eyes appreciate the increased size.
I was particularly happy with how subdued the design is. It is all black, with a standard base and the AOC logo on the bottom bezel. However, there is no obnoxious flashy lights or obnoxious stickers on the front. The power button is located underneath the bottom bezel and shines a very clear blue that is not bright or distracting. There are no integrated speakers or webcam, which is a plus. I would rather use my own accessories and not ruin the minimalist look.
I was surprised to see that there are two HDMI inputs on the rear. While I hadn't planned on connecting more than one computer, I am now considering connecting my PlayStation 4 to it, to save space. Believe it or not, this monitor is larger than the TV which is currently connected to the video game system. In addition to the HDMI ports, there is also a VGA port. While this will likely never be used, it is nice to have. As someone who fixes old computers from time to time, it may find a use in that regard.
Here are the full specifications:
Viewable Image Size -- 27" (16:9)
Brightness -- 300 cd/m2
Contrast Ratio -- 20,000,000:1
Response Time -- 2ms
Optimum Resolution -- 1920 x 1080 @ 60Hz (1080p)
Colors Supported -- > 16 Million
Analog Input -- RGB D-Sub
Digital Input -- 2X HDMI with HDCP
ENERGY STAR Compliant -- Yes
As you can see, this monitor is rather impressive on paper. However, the big question is, how does it look? Awesome. Text is crisp and images are beautiful. The screen is matte and not glossy, which I prefer. You see, a glossy screen suffers from reflection. Here, there is no such issue. My office has overhead lighting and I cannot see any reflection. There is also not one dead or stuck pixel -- it is flawless.
My test system is a desktop running Windows 8.1 with a Nvidia GeForce GTX 650 -- a very modest video card. When watching video or playing games, there was absolutely no ghosting, and movement was seamless and fluid. Of course, I watched a ton of 1080p movie trailers on YouTube and they were amazing. Colors are well represented, especially black. That color in particular can be challenging for displays. Here, black is black, it is superb.
If you are going Black Friday shopping and need or want a new monitor, this AOC provides amazing value. The $179 price starts on Thanksgiving day and lasts until December 2. However, I would be shocked to see stock last that long. With a price this low, there is no justification to hang on to your old tiny monitor anymore. Just don't trample any fellow shoppers to get it, OK? Recommended.